Companies
We're Launching the Kind of Customer Support We'd Like to Receive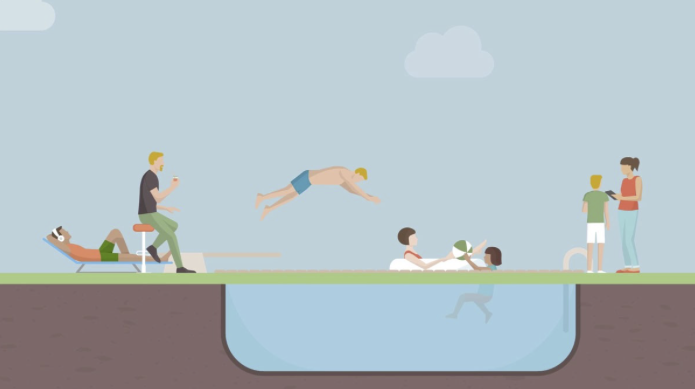 By HIlary Bryant
Buoy Labs, Co-founder
November 29, 2017 — Santa Cruz, CA
Every Buoy comes with the support of our SWIM team, our Smart Water Information Management team.
(Image above: Water is for enjoyment, not just chores — and that guy is definitely going to belly flop. Don't be that guy. Contact our SWIM Team; we can chat about Buoy and even give you tips for diving without belly flopping. Source: Buoy's medium article)
When I talk to people about Buoy, they understand the benefits right away: control of their water, actionable information, lower bills and peace of mind. They're interested. They're enthusiastic. They want a Buoy. Then, almost without fail, when I start talking about installation and connecting to their network, there's a pause. They get that look.
I understand that look. Sometimes it's intimidation and sometimes it's confusion, but it's always important to pay attention when I see it.
That look has everything to do with what I'm announcing today: Every Buoy comes with the support of our SWIM team, our Smart Water Information Management team. We're here to answer all of your questions, from before you buy a Buoy through its installation and beyond.
The SWIM team will help you figure out where and how you should install your Buoy. We'll help get your Buoy online, with water running through it and your water usage data appearing in the app. Sometimes the look is because you don't know a plumber. Don't worry; we have a network of trusted plumbers and can connect you with one in your area.
After your Buoy is installed, we'll answer any questions you have, and will help you understand what you're seeing in the app. We love hearing from Buoy owners about the leaks we catch and the money they save on their water bills, and funny stories about finally having proof that someone in the house takes absurdly long showers.
Here's the thing: We love water. We think it's important. We don't think you should have to sacrifice your lifestyle when there's a solution that gives you all the information you need to maintain it — even to take those long showers.
Me, I love pools. As an All-American water polo player, a swim coach and a lifeguard, I've spent a good amount of my life training in and around pools. Some of the people here at Team Buoy have hot tubs, because that's what's important to them. Most people here at Team Buoy hit the beach as often as possible, either on surf boards or kayaks or just putting our toes in the sand. You know what that means? Outdoor showers.
These are just a few ways water positively impacts our lifestyle. Think of all the ways you use water. What's purely functional, and what's for fun? Laundry and dishes, sure, but how does water enhance your life? You should be able to keep the things that make you happy. Buoy helps you do that.
I'm proud to lead the SWIM team, and proud that Buoy is dedicated to the high standards of support I expect to receive with a product like this. Great service is important to us because the essence of Buoy — water — is so important to us.
So whether you need help understanding the data, a connection to a licensed plumber, or just want to rave about how well your garden is flourishing, we're standing by to listen. Contact us from the Support button in the app or on our website (www.buoy.ai), or call us at 855.481.7112. The SWIM team provides truly helpful support, so there's no need to give us that look.
Hilary
###
Originally published here: https://medium.com/buoy/swim-team-2ce98916b250
###
Tagged Buoy