Companies
Shopify: How This California Pair Built a High-End Surf Brand With Upcycled Wood Scraps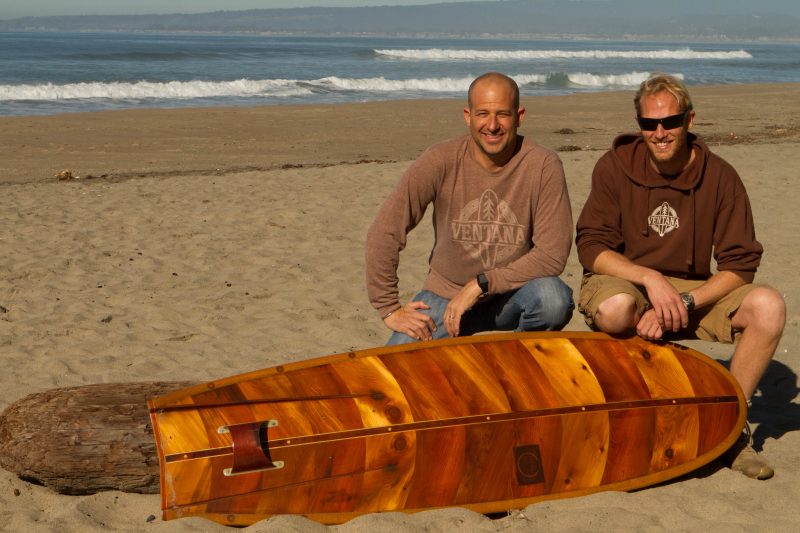 By Nicole Clark
Shopify
June 15, 2017 — Santa Cruz, CA
(Photo above: David Dennis and Martin Stiphout co-founded Ventana Surboards with the aim of being the most environmentally responsible surf company on the planet. Contributed.)
[Editor's note: Santa Cruz Tech Beat published this Q&A article: David Dennis — living a well balanced life (3/6/15).]
"Shopify is the Ventana backbone for ecommerce, website and point of sale," says David Dennis, co-founder of Ventana Surf Boards.
When it comes to retail, passion can be a key differentiator that helps brands rise above the noise. And when passion is combined with storytelling that's deeply intertwined with your brand, a retailer could have a formula for sales success.
So it's no surprise that the founders of Ventana Surfboards and Supplies are passionate about the ocean — and preserving it. For co-founder David Dennis, waves break right at the foot of his backyard and he uses a home office right across the street from the beach in Santa Cruz, California. With the beach just steps away, Dennis manages to surf the local waves about three to four times a week. His business partner, Martijn Stiphout, who is also the master craftsman responsible for creating Ventana's beautiful wooden surfboards, still gets out in the water five days a week.
And it's this respect for the water that's helped the duo cultivate a brand that's hustling to change an entire industry, one board at a time.
Disrupting an Industry
Dennis and Stiphout, like most California surfers, worship the water. But unlike many of their contemporaries, they're mindful of the waste produced by the sport of surfing.
Dennis and Stiphout founded Ventana Surfboards and Supplies with the aim to be the most environmentally responsible surf company on the planet. As an online surf shop and wholesaler, the duo produces wooden surfboards, bodysurfing handplanes, and eco-surf supplies including graphic t-shirts, hoodies, and other apparel for men and women.
Continue reading article here.
###
Tagged David Dennis, Ventana Surf Boards
Related Posts