Companies
Santa Cruz Fiber to begin construction in downtown Santa Cruz in June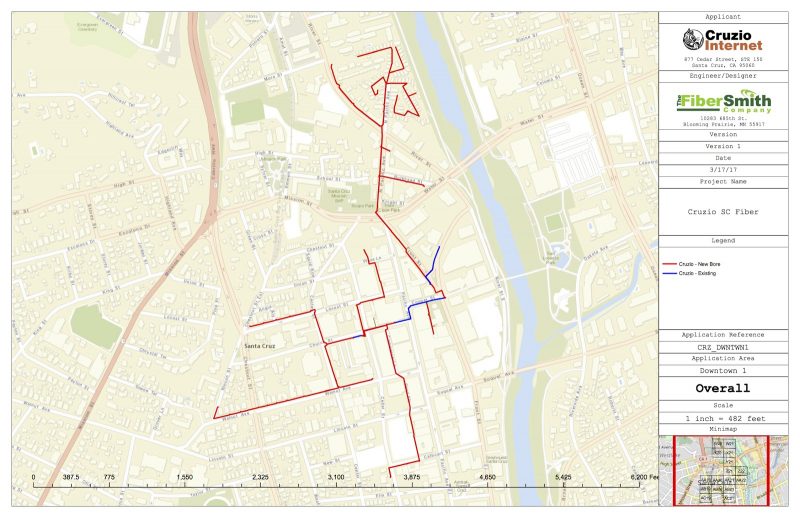 (Contributed)
May 23, 2017 — Santa Cruz
Construction in the downtown area is expected to begin in early June and continue through July
The Santa Cruz City Council unanimously approved the encroachment permits for Santa Cruz Fiber, Cruzio Internet's much-anticipated high-speed fiber project, to begin building the first segment of their citywide fiber optic network immediately.
The broadband upgrade will provide internet speeds of 1 Gigabit (1,000 megabits) per second to both businesses and residents, and allow for even faster speeds later. The company is also launching an upgraded suite of "fiber-backed" services throughout the County under the new Santa Cruz Fiber brand.
With the permit's approval, construction in the downtown area is expected to begin in early June and continue through July. The company will be using a construction technique called "horizontal boring" allowing for the installation of the fiber conduit with minimal street trenching and almost no traffic interruptions.
Multi-unit building owners in the downtown area are encouraged to contact Cruzio representatives if they are interested in getting fiber to their buildings, as Cruzio will be connecting not just single homes, but even large buildings free of charge during the initial buildout phase.
"Building entrances to large units can cost thousands of dollars," said Cruzio's Director of Infrastructure & Technology, Chris Frost. "But it's so important to downtown that we connect as many buildings as possible, we're willing to absorb those costs if we can include them in the initial construction."
Customers interested in getting fiber to their home or business can also take advantage of the introductory price of $49.95/month for a Gigabit connection during the first 3 months of the network going live. Setup and installation fees are also being waived for new customers in this initial phase.
This week City Council also approved a "dig once" policy and a plan to connect City-owned facilities with fiber. Since both the City and Cruzio are now building fiber, they can leverage each others' investment and coverage capacity to do more at a lower cost.
###
Tagged Cruzio, Santa Cruz Fiber