Events
Santa Cruz March for Science announces speaker lineup
By Jenny Kurzweil and Chiara Cabiglio
Members of the Santa Cruz March for Science Organizing Team
April 13, 2017 — Santa Cruz, CA
We are very excited to announce the March for Science – Santa Cruz speaker line-up for Saturday, April 22
The event will begin with a rally at Santa Cruz City Hall starting at 10:00am with some great speakers and entertainment. It will step off at 10:30 am, winding through downtown Santa Cruz, along the Riverwalk, over to San Lorenzo Park and ending at the community's Earth Day celebration – a lively array of exhibits, activities, entertainment and action opportunities focused on environmental stewardship and sustainability.
Speakers include:
Gary Griggs – emcee, Director of Institute of Marine Sciences, UCSC
Dan Haifley – Executive Director of O'Neill Sea Odyssey
Leslie Connor – Executive Director of the Santa Cruz Community Health Centers
Antonia Franco – Executive Director of SACNAS
Enrico Ramirez-Ruiz – Professor and Chair of Astronomy and Astrophysics, UCSC
Healey (age 10) and Marina Ramon – A Science Fair finalist and her Scientist mother
The March for Science grows
There are now over 500 satellite marches, including 100 in other countries, with over 100 requests for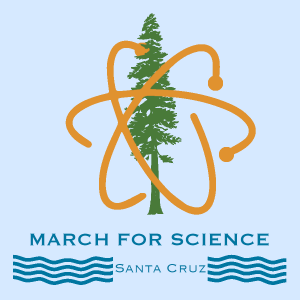 new marches coming in just last week. Visit the main March for Science site to read about the march's mission, principles, goals, and to see where people are marching around the world.
We need more volunteers!
We need volunteers to help with logistics during the march. Please come to our OPTIONAL volunteer orientation on April 17, 2017, 5-6 pm at the SACNAS headquarters (1121 Pacific Ave, Santa Cruz, CA 95060). RSVP here so we know how many to expect.
Can't make it to orientation? That's ok! Sign-up for our volunteer list to receive instructions.
Donate to our local march
We're an all-volunteer committee, but our March for Science – Santa Cruz does involve some expenses, so we're really counting on community members like you to help make it happen. The local Women's March committee has generously offered to serve as the fiscal agent for local support.
Your tax deductible donation can be made by check or online as follows:
Online: Donate here, and add the initials MFS after your last name.
Check: Make check payable to CMS (Cultural Media Services) Memo line: add "Women's March – Science March"
In either case, your contribution will be credited to the March for Science – Santa Cruz, and will be greatly appreciated!
We have strong community support
Santa Cruz County agencies, businesses, non-profit organizations, educational institutions, and more are coming together in support of science! If your organization would like to partner with March for Science Santa Cruz, please contact us at marchforsciencesantacruz@gmail.com.
###
Tagged March for Science