Events
Join the Santa Cruz March for Science on April 22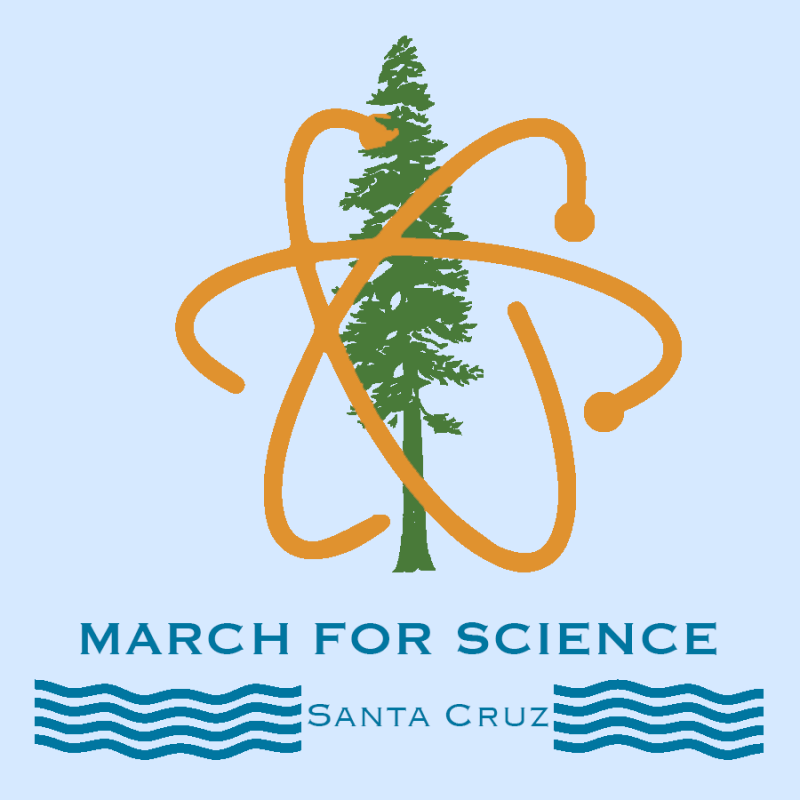 By Ilse Lopes, Board President, Ecology Action and Cynthia Mathews, Santa Cruz City Council Member
Special to Santa Cruz Tech Beat
The Santa Cruz March for Science on April 22 offers everyone a chance to think globally and act locally.
March 30, 2017 — Santa Cruz, CA
The March for Science on April 22, 2017 will be an unprecedented global gathering of people standing together to acknowledge the critical role of science in our daily lives and our understanding of the natural world. Santa Cruz will be part of the action, and the local community is invited to participate.
Santa Cruz March for Science
Saturday, April 22, 2017, 10am

A

ssemble

Santa Cruz City Hall. After

speakers and entertainment the march will wind through downtown Santa Cruz, along the Riverwalk, over to San Lorenzo Park and end at the community's Earth Day celebration.
Learn more here: http://marchforsciencesantacruz.org/
In an era of alternate facts, climate-change denial, and declining support for basic research, the March for Science will unite scientists and community in supporting the integrity of scientific inquiry and science-based policies in the public interest. The main March for Science will take place in Washington, DC, with satellite marches planned for more than 425 additional locations.
Santa Cruz area residents are invited to take part in the local March for Science giving voice to the science/technology issues that particularly motivate them. The community-friendly march will begin at 10 a.m. with a peaceful rally at Santa Cruz City Hall, then kick off at 10:30 to walk on the sidewalks through downtown and along the Riverwalk, ending at the Earth Day celebration in San Lorenzo Park.
In the collaborative Santa Cruz spirit, organizers of the local event have brought together a diverse array of experience and interests, including natural resource management, K-12 and university education, marine science, public health, energy conservation, professional organizations, social equity and technology. Additional partners are invited to join from the private, non-profit and public sectors! Contact March for Science organizers at marchforsciencesantacruz@gmail.com.
Why do people plan to join the March?
Many reasons. Sofia Romero, a UCSC student and member of SACNAS: Advancing Chicano/Hispanic and Native Americans in Science, tells her story. "I march for the little girl that is made to believe that she isn't smart enough to pursue science. I march for my family and for the science that has led to treatments that have allowed my father to lead a normal life despite his type 2 diabetes. I march because we need to come together as a community to protect the future of science."
Cassity Mega, a Cabrillo College student and member of the school's Sustainability Club, is coordinating volunteers for the local March. She says, "This is such a critical time for supporting science: asking the important questions and finding answers. People really do want to make their voices heard!" To volunteer for the March, sign up here.
The March for Science comes at a time when proposed cutbacks in federal funding threaten to impact a vast array of scientific and technological innovation. A recent Santa Cruz Sentinel article noted that right here in Santa Cruz, for federal grants to UCSC grants alone, "the National Institutes of Health provided $39.3 million, NASA, $27.8 million, and the National Science Foundation, $17.4 million." Behind those dollars are frontiers of scientific knowledge that affect everything from genomic research to water resources, astrophysics and coastal/marine protection.
What's your story? The Santa Cruz March for Science wants to hear from you!
What excites you about science, technology, math or engineering? What concerns you? What inspires and rewards you? What's at stake? Share your comments on the March for Science – Santa Cruz Facebook page.
Thinking about signs and slogans for the march? Get creative with friends and family, or join the sign-making activity at "Beyond Borders," the Museum of Art & History's Third Friday event from 6 – 9 pm on Friday, April 21.
The March for Science on April 22 offers everyone a chance to think globally and act locally. Please join us!
###
If you wish to republish this article, please follow our Terms of Use.
###
Tagged March for Science