Companies
Technology Executives Make a Meaningful Difference in New Personal Wealth Management Book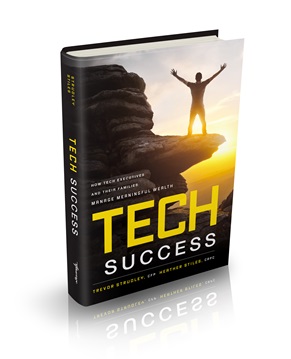 (Contributed)
March 22, 2017 — Santa Cruz, CA
"The book is a practical, accessible guide for technology executives who want to build, protect, and transfer multigenerational wealth while making a meaningful difference in their community and the world."
Trevor Strudley and Heather Stiles of the Capitola branch of Raymond James Financial Services, Inc., member FINRA/SIPC, announced the release of their new book "TECH SUCCESS: How Technology Executives and Their Families Manage Meaningful Wealth." The book is a practical, accessible guide for technology executives who want to build, protect, and transfer multigenerational wealth while making a meaningful difference in their community and the world.
"Whether you are looking for a change of lifestyle, contemplating retirement, or still enthusiastically working, this book provides thought-provoking ideas to help plan your future" said Scott Curtis, President, Raymond James Financial Services.
"Busy technology executives are seeking answers. How do they enjoy their innovative careers, take care of their families, protect their financial resources, and make the world a better place? Even work-optional and retired executives are sometimes not sure they made the right financial decisions," explained Trevor Strudley, private wealth manager for technology executives. "TECH SUCCESS focuses on the factors we see enhance or wreck successful lives. The information in this book can help tech execs verify whether they are on plan or need to take action."
In writing TECH SUCCESS, Strudley and Stiles, a husband-wife team, distilled more than three decades of Silicon Valley and Santa Cruz experiences. The book contains lessons learned from hundreds of client experiences, and insights from specialists in the fields of wealth management, financial literacy, tax and estate planning, insurance, community service, and philanthropic giving.
"Technology professionals use their skills, knowledge, social networks, and financial resources to make a difference in our community," said Heather Stiles, branch manager.
TECH SUCCESS is available on Amazon, at Bookshop Santa Cruz, and other local independent bookshops.
All book sales will be donated to the Silicon Valley Community Foundation and the Community Foundation Santa Cruz County.
Raymond James Financial Services in Capitola, CA, provides concierge wealth management services for successful technology executives and families in the Santa Cruz and Silicon Valley areas. The team works with local tax, legal, risk management, and philanthropic advisors to implement individualized solutions for each client's personal needs and financial situation.
Visit TechSuccessBook.com for more information.
###
Tagged Tech Success