Events
UCSC grads launch first StartUp Weekend in Santa Cruz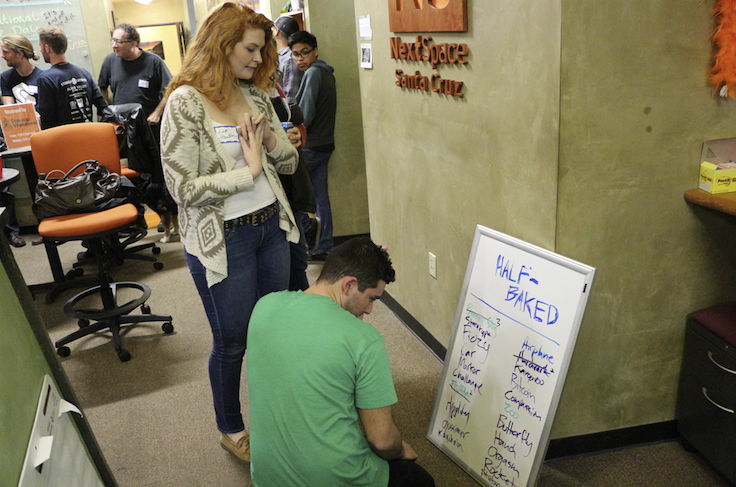 By Jan Janes
Special to Santa Cruz Tech Beat
November 21, 2016 — Santa Cruz, CA
(Photo above: Julie Hawkins get her team's Half Baked name from facilitator Mitchell Cuevas. Credit: Jan Janes Media)
Local entrepreneurs took advantage of a rainy spell last weekend to come together and build new social enterprise startups at the first Startup Weekend held in Santa Cruz.
Startup Weekends are held every weekend somewhere in the world. For local organizers Tom Beckett and Hasti Afsarifard, former classmates at UC Santa Cruz, it was a chance to bring the event to Santa Cruz for the first time. Both realized that Santa Cruz sometimes feels isolated from Silicon Valley. They wanted to create an event to foster connectivity that included a sustainability aspect.
"We wanted to build a model beyond the typical hackathon that included sustainability, environmental issues and social change," said Beckett. Previously he had organized two Startup Weekend events in Santa Clarita, emceed at one in Arizona and participated in three others.
The invitation went out to anyone interested in learning the process of a startup business, including students developers, designers, advocates, environmentalists, entrepreneurs, marketers, changemakers and nonprofit leaders.
Over beer and pizza on Friday night, participants packed NextSpace facilities. "Half Baked," an ice breaker and introduction into the pitch process, was introduced as a fun game, where the teams picked one word and the organizers another. Haphazard business names surfaced, and ten teams brainstormed product, brand, logo and problem solved in a quick ten minute drill.
After the game, serious pitching started, with more than 40 ideas presented in 60-second pitches. Each presenter worked the room to gather the team needed based on skills and interest. The final 11 groups formed around ideas as diverse as food waste management, recycling education and startup advice.
Saturday the work of developing a minimum viable product began. Every team reported failure and pivot. Many teams went through the process repeatedly. One team included all their pivots in their final presentation on Sunday.
Mentors in many fields donate their time
Teams had mentors with a range of skills to call on when stuck, whether a coding issue, a marketing problem, or business validation.
The event was Julie Francis's first mentoring experience. She dropped in Friday to learn the ropes, then spent three hours Saturday working with various teams. "Some teams had a hard time really focusing on connecting the problem and the solution," she said. Her advice was to get out of the building, onto the street and talk with people. " You don't do this in a vacuum," she observed, saying even large companies try to make decisions before then have enough information. Teams used personal interviews, online contacts and surveys. One team surveyed 6600 people to validate their concept.
On Sunday, teams continued to develop their business models, then switched to presentation preparation. Each group had five minutes to present their entire model, including a demo. For their presentations, the group moved to Santa Cruz Museum of Art and History, facing industry knowledgeable judges.
Visitors from Australia detour to Santa Cruz
Startup Catalyst, a group of 20 Australian entrepreneurs touring the Bay Area, joined the event and many of the local teams. Mentor Peter Laurie said this was the organization's third tour. The last two years the group attended Startup Weekend San Francisco. Because no San Francisco event was planned for 2016, the group put Santa Cruz on their itinerary.
Co-organizer Afsarifard said planning for the event started last spring. "We wanted to foster connectivity and include a sustainability aspect for the event because engineers, designers and changemakers thrive off each other's skills." She especially wanted to give a shout out to the many event sponsors. "They are the reason we could keep the ticket price so low."
Sponsors include Looker, Sustainability Office, Startup Catalyst, Santa Cruz Works, Santa Cruz Economic Development, Everett Program, Santa Cruz Tech Beat, Santa Cruz New Tech Meetup, Santa Cruz 350, SBDC, Citizens' Climate Lobby, Santa Cruz MAH and Blinkist.
Facilitating for the first time, Chris Montes traveled from Washington with Mitchell Cuevas to run the 54-hour event. "We may have had five teams selected by the judges as 'winners.' But if you came this weekend, you worked with a team, you failed and then pivoted, you all won."
40 pitches, 11 teams, all winners
Honorable Mention – Flash Farm: Partnering with farms to use mobile devices and offer flash sales of produce, diverting it from the food waste stream.
Honorable Mention – Consent Collaboration: Expand viable options for victims of sexual abuse, empower victims and redefine accountability for offenders.
Third Place – BeeVolve: A nonprofit organization funding better beekeeper technology to save the bees.
Second Place – Aha!: Matches high quality mentors with people who want to learn practical skills.
First Place – Conifr: A mobile app and competitive game for people to track and reduce their carbon footprints.
###
If you wish to republish this article, please follow our Terms of Use.
###
Tagged Startup Weekend Santa Cruz