Events
Startup Weekend Santa Cruz: change the world in 54 hours!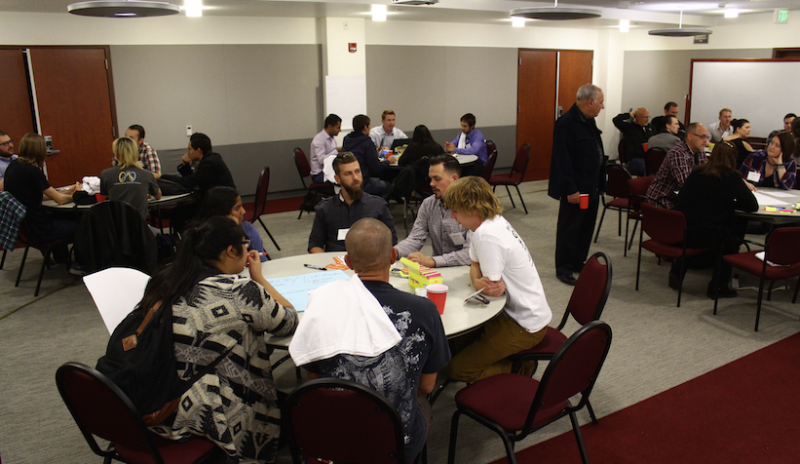 By Tom Beckett
Member of the Startup Weekend Santa Cruz organizing team
Special to Santa Cruz Tech Beat
September 28, 2016 — Santa Cruz, CA
(Photo above: Teams form quickly after the Friday night pitch session at Startup Weekend Santa Clarita Valley in 2015. Credit: Bubbaphoto)
Startup Weekend Santa Cruz (SWSC) — Build your startup and change the world in 54 hours!
Startup Weekend Santa Cruz is a unique opportunity for developers, designers, social justice advocates, environmentalists, entrepreneurs, students, engaged citizens, marketers, product managers, changemakers, nonprofit leaders, startup enthusiasts and many others come together to team up and build several new social enterprise startups in just 54 hours! This grassroots event is being organized by volunteers with many of the above mentioned backgrounds who currently live and/or work in Santa Cruz!
The Startup Weekend event model is part of a large entrepreneurial community with 80,000 past attendees at 905 weekend events in 501 cities within 135 countries, as of 2014. This is big, and we are excited to see which companies sprout during our weekend!
Be a changemaker
This three-day event encourages a fun and engaging environment for changemakers of all backgrounds. A Changemaker is one who uses their unique perspective, passion knowledge, and abilities to bring about change in their local and/or global community. Anyone can be a changemaker.
Startup Weekend creates a forum for creators and idealists to gain insight and relevant, real-time experience for growing a social enterprise while expanding their networks, portfolios, and resumes. Weekend activities include rapid-fire startup pitches, prototype building, customer development, mentor feedback from experts, and conclude with a Shark Tank-style judging session. Prizes awarded will be designed to add value to the winning social enterprise startup teams, and of course come with bragging rights!
Our organizing team
As one of the event organizers, I wanted to bring Startup Weekend to Santa Cruz after seeing its impact on organizing and exposing the local entrepreneurial community in my hometown last year. I had been exposed to a bit of the tech community in Santa Cruz during my undergraduate years at the university, and having returned to Santa Cruz earlier this year, I began reaching out to old contacts that I figured might have an interest in helping put the event together. Quickly, I recruited Hasti Afsarifard to the team, a fellow banana slug and 3D printing enthusiast, and we then approached a mutual friend, Melissa Ott, another banana slug alum who works up at UCSC's Sustainability Office. The three of us soon determined that the City of Santa Cruz would be the perfect fit for a themed Startup Weekend, where the tech community would be able to support the standard event model, and other socially conscious residents would be able to help solve environmental and social issues that we face both locally and globally. Our team has since added Katie Roper of UCSC's Everett Program as well as Jeffrey Priebe of Parachute Web Design to help promote the event to social advocates as well as the developer community.
Participants arrive at 6:30 pm on Friday, Nov. 18, 2016. Those with a social enterprise startup in mind get 60 seconds to pitch their idea (pitching is not required), attendees then vote for their favorites, and then teams naturally form around the top ideas! Days two and three involve collaboration as teams take their ideas from paper to working prototype including interaction with potential customers.
Sustainable Solutions and Social Impact
We're focusing on Sustainable Solutions and Social Impact to encourage cross-pollination of communities within Santa Cruz County who might not often get together for a shared cause. We hope to bring folks together who have different interests, areas of expertise, and passions to share, create, and get feedback on ideas that can change the world for the better. Sustainable solutions and social impact can mean many different things, we invite participants to bring their own interpretations of these concepts to the event and let their unique perspective inform the challenges and solutions they present.
An entire weekend is quite the commitment, but you're encouraged to shake up your routine and come to Startup Weekend on November 18 – 20! You've surely experienced nothing like it before. You will be fed lots of good food, introduced to talented locals (potentially your future co-founder(s)), connect with business leaders, and be provided with a challenging, engaging, and risk-free space to test out that idea you've been hanging on to for the last year (or help someone build theirs).
If you think you have an idea that can help make the world a better place, it's time to act on it and try it out! Anyone passionate about social enterprise, business, development, design, marketing, etc. is welcomed.
What's in it for you!? Visit our website to learn more about all of the benefits of attending as a designer, develop, changemaker, or entrepreneur.
###
Tagged Startup Weekend Santa Cruz