Featured
UC MBEST: High-tech ambitions rekindled on Fort Ord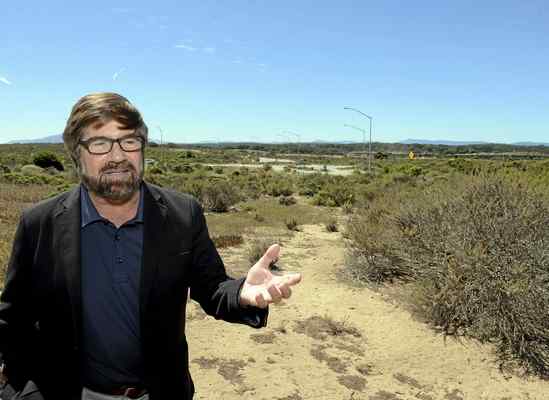 By James Herrera
Monterey Herald
October 5, 2016 — Marina, CA
(Photo above: Steve Matarazzo, planning director at UC MBEST, speaks in front of undeveloped land behind the building by Marina Municipal Airport. Credit: David Royal)
When Fort Ord closed in 1994, part of the plan for reuse included a high-tech component.
The dream was that computer, software and internet companies would overflow from Silicon Valley into an area of Marina vacated by the Army and not only renew and repurpose that area but inject money into the local economy.
Today there are paved streets with just two squat buildings, streetlights and a business park gateway sign marking the entrance to the area. It isn't quite what was imagined.
For the most part, the University of California, Monterey Bay Education, Science and Technology Center, or UC MBEST as it is most commonly known, sits relatively undeveloped and underutilized, the apparent victim of a number of factors, including the Great Recession of 2008.
That, however, may be about to change.
Behind the scenes there is the spark of a renewed effort to finally get the idea of a research and development center off the ground. This summer, an "Agreement to Cooperate to Foster UC MBEST Development" was signed by its stakeholders.
The agreement is "to update our vision and explore new ideas that are relevant to today's world," said George Blumenthal, UC Santa Cruz chancellor.
Meanwhile, just up the road, CSU Monterey Bay is positioning itself to become part of the research and development vision as well.
What happened to the dream?
The dream of research and development or light industry coming to the more than 1,000 acres given to the University of California — and the 4,000 or so jobs that might come with it — hasn't been realized.
Except for the construction of its headquarters in 2001, which brought in the infrastructure the UC MBEST Center would need to serve the primary research and development "Central North Campus," not much has been built.
Continue reading article here: http://www.montereyherald.com/business/20161001/uc-mbest-high-tech-ambitions-rekindled-on-fort-ord
###
Tagged UC MBEST, UC Santa Cruz