Featured
Santa Cruz tech policy adopted statewide, up to a point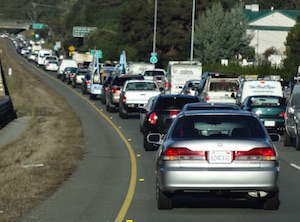 By Steve Blum
Tellus Venture Associates
Special to Santa Cruz Tech Beat
September 30, 2016 — Santa Cruz, CA
The dig once work done by the City of Santa Cruz and Santa Cruz County formed the policy core of AB 1549, and will be the model for implementing and expanding it in the coming months.
Most of the cost of building high speed, fiber optic broadband networks comes from very low tech work: digging a hole, dropping in conduit and filling it back up again. Looked at that way, the most prolific network builder in California could be – should be – Caltrans. Particularly when you consider that it owns the trickiest bits of many long distance routes: bridges, tunnels and overpasses. Or, say, environmentally sensitive stretches of Highway 1 or slide prone areas on Highway 17.
Unfortunately, Caltrans usually can't be bothered to install conduit on its own, or even cop a cooperative attitude when cities or independent Internet service providers want to put their own conduit in state highway projects. That was one of the problems highlighted during hearings held in Sacramento last year by a group of California assembly representatives from rural areas – including local assemblyman Mark Stone (D – Scotts Valley) – to look for solutions to the chronic problem of poor broadband service.
One idea that came out of those hearings was to put dig once requirements on Caltrans, similar to the broadband master plans developed in Santa Cruz – city and county. Committee chairman Jim Wood (D – Healdsburg) authored assembly bill 1549, which flew through the legislature on an unbroken series of unanimous votes and was just signed into law by governor Jerry Brown. It's not as comprehensive as originally hoped – Caltrans officials complained to Brown and he threatened to veto it if it wasn't watered down – but it does require Caltrans to let everyone who is interested know when there might be an opportunity to install broadband conduit in a highway construction project…
During the project planning phase of a department-led highway construction project that was initiated on or after January 1, 2017, is parallel to the highway, and involves construction methods that are suitable for installing broadband conduit, the department shall notify companies and organizations working on broadband deployment of the project on its Internet Web site to encourage collaborative broadband installations.
It remains to be seen how Caltrans will interpret this new requirement, as well as other language which specifically allows private companies and organizations "working on broadband deployment" to collaborate on state highway projects. But it doesn't require Caltrans to reciprocate. Nor does it do anything – yet – to shake key information out of scattered plans and files: to find out what Caltrans has installed, or plans to install, in Santa Cruz, you have to make a road trip to San Luis Obispo and dig through decades of moldy blueprints.
I was in a meeting with Caltrans officials and assemblyman Wood's staff in May to discuss an earlier draft of the bill. The people from Caltrans took the position that they were already doing all the notification that was necessary, although the web link they offered turned out to be broken. But a diligent, district by district search turned up links to lists of projects and even some detailed plans – you can see what's in the pipeline for Santa Cruz here. But to be of any practical use, it takes a weekly, if not daily, trawl through the Caltrans website to see if anything new was posted, and spend a lot of time reading through project descriptions and specifications to figure out if there is, indeed, a genuine opportunity to install conduit as part of the work.
AB 1549 also requires Caltrans to meet with stakeholders to try to come to agreement on information availability, as well as a defined process for installing conduit in highway projects, both on its own initiative and in collaboration with broadband developers – incumbents, independents and communities alike. The dig once work done by the City of Santa Cruz and Santa Cruz County formed the policy core of AB 1549, and will be the model for implementing and expanding it in the coming months.
I've advocated for and helped to draft AB 1549. I'm involved and proud of it. Take it for what it's worth.
###
Tagged Steve Blum, Tellus Venture Associates