Companies
Balancing gender parity in STEM participation through theater… and robots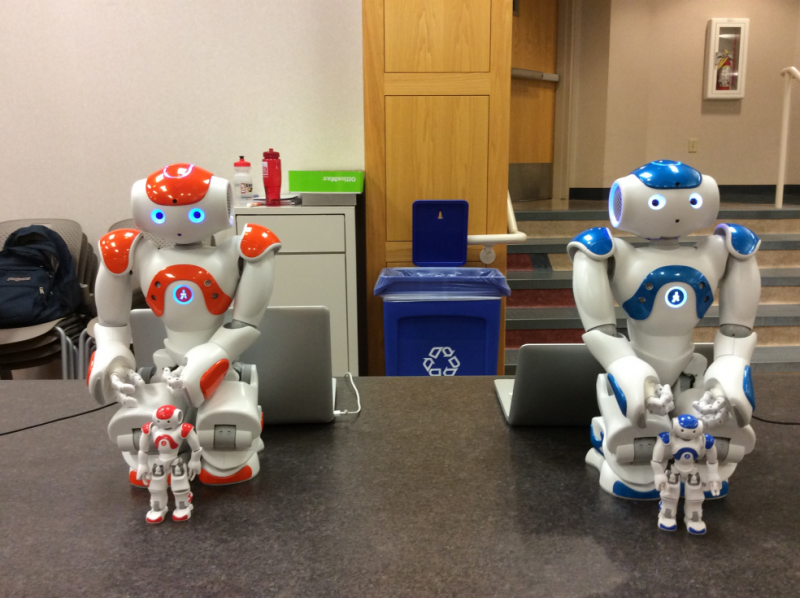 By Jason Buehrer
Robot Theater, Instructor
Special to Santa Cruz Tech Beat
July 14, 2016 — Santa Cruz, CA
(Photo above: Two of the NAO robots posed with their smaller action figure counter parts.  Credit: Denise Szecsei.)
Five Robot Theater workshops will be held at UC Santa Cruz's McHenry Library in room 1340 in August. Register for workshops here.
Walk into any technology company, conference, or video game store and you will notice almost immediately the distinct lack of women. It's not just in the board room or office spaces, this gap can also be found in computer science and engineering departments in schools across the country. While many reasons for this gap have been presented over the years, one of the key factors is girls are often steered away from the sciences, either directly or indirectly and into other fields.
Using Robots as a tool to teach programming
There are a number of bright spots though; since 2015 Dr. Denise Szecsei, a computer science lecturer at the University of Iowa, has been using NAO robots as a tool to teach programming to school girls as young as fifth grade. Her first tiny class was three lucky students from a local middle school, who met one day a week to learn to program the robots. They spent nine months' worth of afternoons programming a variety of short skits, one of which was Dr. Seuss's Green Eggs and Ham performed as a call and response interaction. The students would read the part of Sam-I-Am while the robot played the part of the grumpy character, who listened for what the student would say with its speech recognition tool. When the program was complete it was showcased alongside the work of college students. Building on these smaller pilot programs, this summer Dr. Szecsei took the robots to the Junior Scholars Institute (JSI), a one-week residential program offered through the University of Iowa's Belin-Blank center.
Dancing Robots
Much of the work the Dr. Szecsei is doing with 5-12 grade students is based on earlier classes that she created for college students. The first class, Dancing Robots, was a project-based class offered collaboratively with the Computer Science Department and the Department of Dance. It was designed to provide an opportunity for students to communicate with people outside of their discipline, but also incorporated advanced concepts from each subject. Dancing Robots, like all of Dr. Szecsei's classes involving performing robots, utilizes the NAO robot offered by Aldebaran Robotics. Created as research and education tool, each $9,000 robot offers a wide array of tools like speech recognition, movement, speech, and network communication with other robots that a student can use to program a scene or monologue. The interface is easy to use, allowing for direct programing on the computer or through physical manipulation of the robot itself.
Dr. Szecsei has plans for further expansion of the summer programs like JSI and is partnering with UC Santa Cruz and a Palo Alto restaurant, Vino Locale, to bring a series of free demonstrations in the Bay Area to give local educators, students, and artists an opportunity to work with the robots.
Five workshops will be held on the UC Santa Cruz Campus at the McHenry Library in room 1340. Register for workshops here.
Tuesday, August 9, 2016 — 1:00-4:00 pm (this workshop is full but you can add your name to the wait list)
Wednesday, August 10, 2016 — 9:00 am-12:00 noon
Wednesday, August 10, 2016 — 1:00-4:00 pm
Thursday, August 11, 2016 — 9:00 am-12:00 noon
Thursday, August 11, 2016 — 1:00-4:00 pm
An additional workshop will be held at Vino Locale in Palo Alto on Friday August 12th from 11 AM – 2 PM. Vino Locale will host an event called "Mingle With the Robots" on August 12 from 4 – 6 PM, showcasing much of the work done by students of all levels. Tickets for the showcase are available on Eventbrite and are free to the public.
Registration is now open on the University of Iowa Computer Department website. Space—and robots— are limited, and you are encouraged to sign up as soon as possible.
Questions about the robots, class, or volunteering to help can be sent to cs-robots@uiowa.edu.
###