Companies
The Looker Book: Winning with Data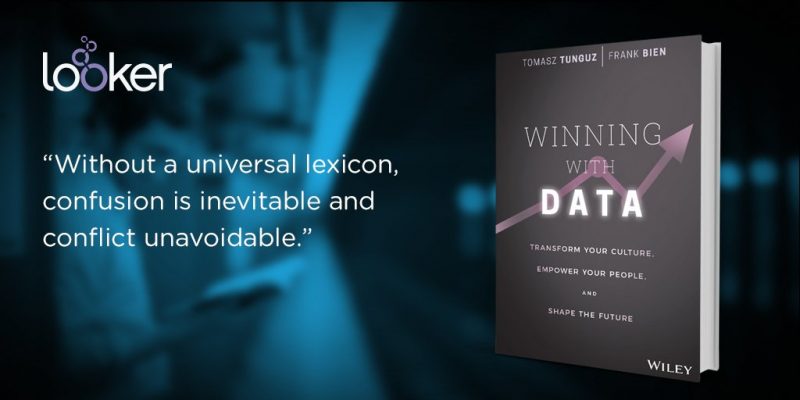 By Sara Isenberg
Founder, Publisher, Editor-in-Chief, Santa Cruz Tech Beat
June 9, 2016 — Santa Cruz, CA
Crest the data wave with a deep cultural shift
You probably won't be able to make it into the Winning with Data Book Launch Party on June 21 in San Francisco. It's already sold out. However, here's an idea: Perhaps Bookshop Santa Cruz will host a book signing event in Santa Cruz. After all, Looker is one of the local tech ecosystem's great success stories, and it's kind of a special occasion that Looker CEO, Frank Bien, and Redpoint Venture Capital Partner, Tomasz Tunguz, have co-authored a new book, Winning with Data.
The online book blurb says:
"Winning with Data" explores the cultural changes big data brings to business, and shows you how to adapt your organization to leverage data to maximum effect. Authors Tomasz Tunguz and Frank Bien draw on extensive background in big data, business intelligence, and business strategy to provide a blueprint for companies looking to move head-on into the data wave. Instrumentation is discussed in detail, but the core of the change is in the culture–this book provides sound guidance on building the type of organizational culture that creates and leverages data daily, in every aspect of the business. Real-world examples illustrate these important concepts at work: you'll learn how data helped Warby-Parker disrupt a $13 billion monopolized market, how ThredUp uses data to process more than 20 thousand items of clothing every day, how Venmo leverages data to build better products, how HubSpot empowers their salespeople to be more productive, and more. From decision making and strategy to shipping and sales, this book shows you how data makes better business.

Big data has taken on buzzword status, but there is little real guidance for companies seeking everyday business data solutions. This book takes a deeper look at big data in business, and shows you how to shift internal culture ahead of the curve. Understand the changes a data culture brings to companies Instrument your company for maximum benefit Utilize data to optimize every aspect of your business Improve decision making and transform business strategy

Big data is becoming the number-one topic in business, yet no one is asking the right questions. Leveraging the full power of data requires more than good IT–organization-wide buy-in is essential for long-term success. "Winning with Data" is the expert guide to making data work for "your" business, and "your" needs.
About the authors
(Source: Looker's website)
Tomasz Tunguz, Redpoint Venture Capital Partner

Tomasz joined Redpoint in 2008 and has invested in Axial, Dremio, Expensify, Electric Imp, Looker, and ThredUP. He is an active blogger at Tomtunguz.com and the co-author of Winning with Data: Transform Your Culture, Empower Your People, and Shape the Future, which explores the cultural changes big data brings to business, and shows you how to adapt your organization to leverage data to maximum effect. Before joining Redpoint, Tomasz was the product manager for Google's AdSense social-media products and AdSense internationalization. Tomasz attended Dartmouth College, where he rowed on the crew team (Go Green!) and graduated as a George Revitz Fellow with a BA in mechanical engineering, a BE in machine learning, and a master's degree in engineering management.
Frank Bien, Looker CEO
With over 20 years growing and leading technology companies, Frank Bien built his career on nurturing strong corporate culture and highly efficient teams. Prior to Looker, Frank was SVP of Strategy for storage vendor Virsto (acquired by VMware) and VP of Strategic Alliances at big-data pioneer Greenplum, leading their acquisition by EMC (now Pivotal). He led Product Marketing and Strategy at early scale-out data warehousing company Sensage and was VP of Solution Sales at Vignette/OpenText. Earlier in his career he held executive roles at Dell and the Federal Reserve.
###
If you wish to republish this article, please follow our Terms of Use.
###
Tagged Frank Bien, Looker, Tomasz Tunguz