Companies
Q&A: Bud Colligan, where is tech headed in our region?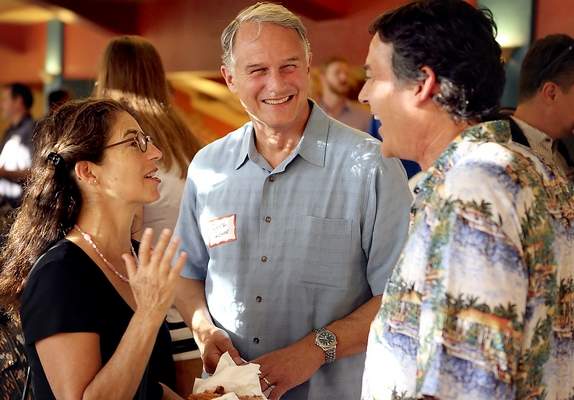 By Jan Janes
Special to Santa Cruz Tech Beat
May 7, 2016 — Santa Cruz, CA
(Photo above: Sara Isenberg, Founder of Santa Cruz Tech Beat, Dan'l Lewin, Corporate Vice President at Microsoft, and Bud Colligan share a moment at the Santa Cruz New Tech Meetup last September. Credit: Kevin Johnson)
Publisher Sara Isenberg will join Pete Biggam of Startup Grind Monterey Bay on May 16 to chat about launching Santa Cruz Tech Beat as a start up, the challenge of covering the technology business sector in the region and future opportunities for expansion. Following the second annual summit May 26 sponsored by the Monterey Bay Economic Partnership, MBEP co-chair and CEO of South Swell Ventures, Bud Colligan offered some thoughts about tech growth in the region.
JJ: How has the region's growth been impacted because Santa Cruz Tech Beat (SCTB) consistently delivered focused news?
BC: The region has benefited from SCTB's consistent coverage of the evolving tech ecosystem. We now have much more going on: meetups in Salinas, Seaside, Watsonville and Santa Cruz. Co-working spaces and/or incubators in Scotts Valley, Felton, Santa Cruz, Salinas and Santa Cruz. The two major universities and our regional community colleges are spearheading hackathons, business plan competitions, and other small business development efforts.  They are also increasing their science, engineering and computer science graduates and capabilities. SCTB has evolved to cover the whole region, and I think we are lucky to have that excellent resource.
JJ: In the tri-county region, where is tech headed?
BC: We are headed to a richer ecosystem of tech companies and startups assisted by the community and educational efforts I've just mentioned. There are many startups in the 5 – 20 person range and some of those will emerge to be major companies. At the same time, let's not forget that we have world class companies here now, using information technology to grow their businesses: Driscoll's field to fork Delight Platform tracking the quality of their berries through the entire distribution chain; Taylor Farms is building a new robotics team to further its efforts in automating the packaging of fresh vegetables; and Hahn and Verizon are doing a field based WIFI network with sensors and a weather station to reduce resource consumption and make the best possible wine. So we have activity at both the startup and established company level, both of which are really exciting.
JJ: How could this publication impact, shape, direct tech issues in the future?
BC: SCTB can continue to evolve to a truly regional publication (in content and name), one that fully embraces and brands the entire tri-county area. Technology is impacting every facet of our lives. For example, there are high speed broadband efforts going on in Salinas and Watsonville in addition to Santa Cruz. The Sunesys middle mile fiber project extends from Santa Cruz to Soledad. UCSC and CSUMB are both doing some very innovative work in educating underserved segments of our population, and that's an important emerging story if we want California to continue to lead the way in innovation. So I see the need for SCTB to embrace the region as a whole and be that information source and glue that provides important connectivity tissue region-wide.
Join Sara Isenberg on May 16 at 6:00 PM for food, networking as she chats with Startup Grind Monterey Bay director Pete Biggam at NextSpace Santa Cruz, 101 Cooper St. Admission with advance registration is $5, $1 for students, and NextSpace members get in free. RSVP here.

In addition to talking about the history and vibrancy of the tech ecosystem, Isenberg promised to dish some dirty little secrets.
Startup Grind Monterey Bay hosts Sara Isenberg (santacruztechbeat.com)

Monday, May 16, 2016
6pm: Networking, Beverage, Food
7pm: Fireside Chat w/ Sara Isenberg, Founder and Publisher, Santa Cruz Tech Beat

NextSpace, 101 Cooper St., Santa Cruz, CA
RSVP here. ($5 general in advance, $1 students)
###
Jan Janes, Communications Director, Web Publisher, Television & Radio Producer, Photojournalist, Social Media Architect, can be reached on LinkedIn.
###
If you wish to republish this article, please follow our Terms of Use.
###