Companies
MBEP summit puts regional development in crosshairs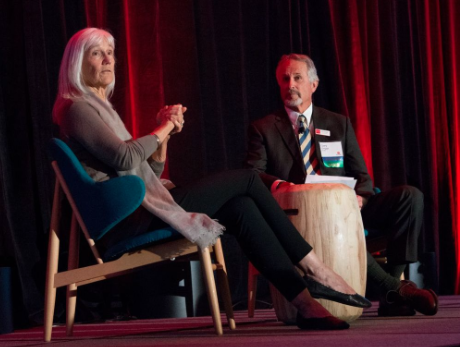 By Nick Rahaim
Monterey County Weekly
April 28, 2016 — Monterey, CA
(Photo above: Julie Packard, executive director of the Monterey Bay Aquarium, and Gary Griggs, earth sciences professor at UC Santa Cruz, discuss the "blue economy" of Monterey Bay. Credit: Nick Rahaim)
The Monterey Bay Economic Partnership held its second annual Regional Economic Summit on April 26, touting the area's economic strengths while also acknowledging some challenges that lie ahead.
The event brought hundreds of leaders in both the public and private sector to the Hyatt Regency in Monterey for a day of discussion panels and networking.
"I'm very happy with this year's summit," says Bud Colligan Co-Chair of the MBEP. "More people came this year than last and there seems to be a lot more interest in what we're doing."
At the economic summit Colligan announced the launch of a new affordable housing initiative to address one of the biggest challenges facing workers in the region.
The day-long event featured a talk on the state of the economy and regional forecasting by acclaimed economist from UC Riverside's School of Business Administration Chris Thornberg. Two of the major takeaways from his talk: the stock market doesn't always reflect the real economy and Baby Boomers still dominate the political economic landscape and will for at least a decade more.
Continue reading article here: http://www.montereycountyweekly.com/blogs/news_blog/economic-summit-puts-regional-development-in-crosshairs/article_2dae5708-0ccb-11e6-a1c9-f3ff942063c4.html
###