Companies
April 22 Micro-Business Summit Schedule Announced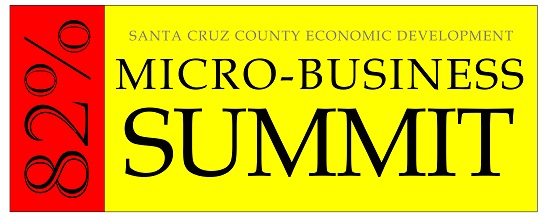 (Contributed)
April 14, 2016 — Santa Cruz, CA
The Santa Cruz County Office for Economic Development is pleased to announce the full schedule for the upcoming "82%: A Micro-Business Summit."
Two dozen presenters will be on hand to offer seminars throughout the first annual, all- day event, with door prizes and a mixer to follow. Kent Burnes, a leading business consultant and authority on revitalization of community assets from conception and planning to implementation, will give the keynote speech.
"We will be offering businesses practical, real-world skills that they can apply the minute they walk out the door," said Barbara Mason, economic development coordinator for the County of Santa Cruz. "Our local businesses are the fiber of our economy and our community, and we're pleased to be able to offer this event on their behalf."
Being held April 22 at Cabrillo College, registration for the event is now open at www.microbusinesssummit.com, and is limited to 500 attendees. The cost is $49, which includes access to all sessions, continental breakfast, lunch, reception and a goodie bag.
Other speakers include: Andrew Van Valer, SlingshotSV founder and Regional Monterey Bay publisher; Kim Kaselionis; managing partner, Breakaway Funding; Jordan Baker, founder, Focuster.com; Maggie Ivy, executive director, Visit Santa Cruz County; Claire Laughlin, communications and leadership trainer; David Harken, SCORE; Bryce Root, founder, The Root Group; Donald Boys, Central Coast Patent Agency; plus many others.
Event partners include: Pajaro Valley Chamber of Commerce & Agriculture, Aptos Chamber of Commerce, Capitola/Soquel Chamber of Commerce, Scotts Valley Chamber of Commerce, Ben Lomond Business Association, Leadership Santa Cruz County, Visit Santa Cruz County, Think Local First, Santa Cruz Downtown Association, El Pajaro Community Development Corporation, Boulder Creek Business Association, Santa Cruz City Schools ROP Programs and Santa Cruz Tech Beat.
For a full list of sessions, go to http://www.microbusinesssummit.com/#!schedule/cjg9
###
Tagged Cabrillo College, County of Santa Cruz