Events
Students to pitch startup ideas at 4th annual Business Design Showcase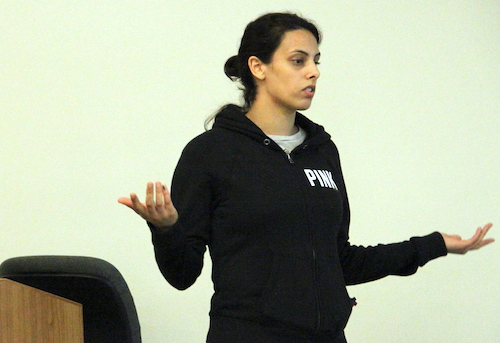 By Jennifer Pittman
UC Santa Cruz
April 7, 2016 — Santa Cruz, CA
(Photo above: Student Reema Eid practices her pitch for the upcoming Business Design Showcase. Source: UCSC.)
16 UCSC teams will vie for top prize of $4000 at event to be held in Silicon Valley
UC Santa Cruz entrepreneurial students were fine-tuning their business pitches this week in preparation for the university's popular Business Design Showcase, a competition to be held Tuesday, April 12, 3:30-8:30pm in Sunnyvale.
About 16 teams are expected to participate in the annual event that draws together some of Silicon Valley's most prominent entrepreneurs. Each team will have up to six minutes to pitch a business idea to a panel of seven judges, each seasoned businessmen and women. From there, they will proceed to woo a larger crowd of invited industry guests and members of the public for a coveted People's Choice Award.
"We have everything from underarm deodorant to virtual reality workspaces and GoPro camera stabilizers," said Sue Carter, executive director of the UC Santa Cruz Center for Innovation and Entrepreneurial Development.
CIED plays an active role in developing student entrepreneurship through events, mentorship, community and industry partnerships and teaching innovation and entrepreneurship.
It is the fourth showcase organized by CIED and, due to its growing popularity, the first to limit contestants to teams that have either won previous competitions, such as the open UCSC Pitch Slam! in December or the Hack UCSC 2016 in January, or been referred by instructors of entrepreneurship or a CIED staff member.
"It's just a really great mix of low tech and high tech companies developed by grad students and undergrads," said Sonya Newlyn, special program assistant at CIED. "It's going to be really hard to choose winners. I would hate to be a judge."
Continue reading article here: http://news.ucsc.edu/2016/04/business-showcase.html
Learn more here: http://cied.ucsc.edu/news-events/events/business-design-showcase.html
###
Tagged UC Santa Cruz