Companies
hospitalityPulse to Showcase Solutions at ITB Berlin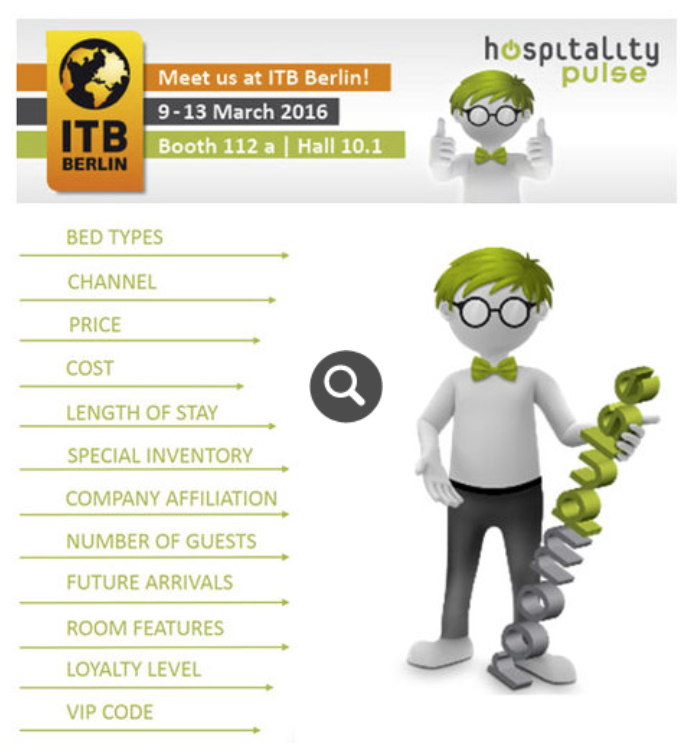 (Source: hospitalitynet.org)
February 24, 2016 — Santa Cruz, CA
hospitalityPulse to Showcase Solutions for Resolving Room Assignment Challenges at ITB Berlin
roomPulse and pulseLink dynamically optimize each room assignment in real time, all the time
Hoteliers looking to take the guess work out of room assignment while simultaneously increasing guest satisfaction, revenues and loyalty should plan to visit hospitalityPulse March 9 to 12 at ITB Berlin in Hall 10.1 / 112a. Using a patent-pending optimization process and intuitive user interface, hospitalityPulse will show attendees how they can assign the most optimal room for every guest – every time – with consistent efficiency using the company's roomPulse and pulseLINK solutions.
"One of the biggest problems hoteliers are facing is assigning rooms to guests upon check in that match the features and characteristics they requested during the booking process," said Pierre Boettner, hospitalityPulse CEO. "More than 50 percent of guests are not checked in to their pre-assigned rooms upon arrival due to overbooking situations, housekeeping status or competing last minute guest requests. As such, it's not uncommon for guests to be unsatisfied with the rooms they receive – especially if they are a frequent customer or loyalty club member with a specific profile and specific room preference. Not getting the room you request translates into lower guest satisfaction and less repeat business. For the hotel, we see the negative financial impact of being forced to upgrade guests complimentary in much higher-valued room categories, as no other option seems available when balancing the house.

"At hospitalityPulse, we understand that room assignment is a complex, multidimensional task that is easy to mess up," Boettner said. "It requires training of front desk personnel and integration into the broader operation of a hotel. Looking at the many variables to consider when assigning the optimal room, it is a task impossible to solve without the support of technology Rather than allowing owners to leave money on the table by not optimally assigning guests the right room at check in, we developed roomPulse, a radically different multi-dimensional inventory engine that automates room assignments to streamline check in."
roomPulse is the first real hospitality solution that dynamically optimizes each room assignment in real time, all the time. It solves all possible movements based on reservation requirements, reservation and guest value and room availabilities, resulting in more optimal upgrades being granted to the right guests. It defragments the inventory, provides clarity of available rooms, and facilitates better upselling. More importantly, roomPulse reduces costs, increases guest satisfaction and revenues, and it makes employee tasks a lot easier too.
Continue reading article here: http://www.hospitalitynet.org/news/4074310.html
###
Tagged hospitalityPulse