Companies
How to Turn Your To-Do List into an Action Game Plan

By Sara Isenberg
Founder, Publisher, Editor-in-Chief, Santa Cruz Tech Beat
January 21, 2016 — Santa Cruz, CA
Last week, a Santa Cruz-based team launched Focuster, a new productivity tool, on the popular technology website Product Hunt. Focuster is an automatic intelligent scheduler that turns your to-do lists into an action game plan. Instead of manually scheduling tasks with dates and times, you select priorities and Focuster finds free space on your calendar and schedules them automatically.
Doing instead of planning
The Focuster team is led and inspired by CEO Jordan Baker. The head of a web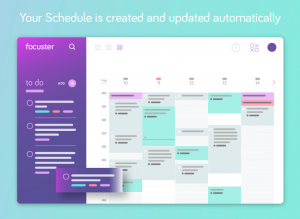 and mobile development agency with over 15 years of experience, Jordan himself faced the struggle to increase productivity and focus on doing instead of planning.
"What I saw every day around me is that talented entrepreneurs and freelancers were overwhelmed with countless tasks and goals. They were trying to do everything and couldn't manage their time effectively," Jordan said.
Jordan combined his experience in agile project management and his love of productivity systems, for example, Gettings Things Done, Tony Robbin's RPM, and offers from Stephen Covey. His interest in yoga and mindful practices led to the development of his four principles of focus management: writing down goals, prioritization, creating a game you can win, and mindfulness. Jordan then began to think of how to implement these principles into a helpful tool to automate the tedious process of finding spots on the calendar for all of the tasks that fill our days.
Finding early adopters
Actually, Focuster 1.0 was released at the end of 2014. From the sound of it, that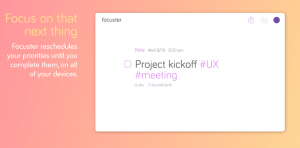 was a form of a beta release and last week's 2.0 is the real release. Standard stuff.
Finding early adopters was relatively easy for Jordan. He says, "I found my earliest adopters at NextSpace Santa Cruz where I've been a member for three years. I found more early adopters when I demo'ed a beta version at the Santa Cruz New Tech Meetup. The local community has been very supportive and receptive."
"Those first early adopters were super important," says Jordan. They provided him with crucial feedback to improve the tool. Every month, he says, he made improvements to make the tool easier and "more comfortable" to use.
Two significant functions were added which led to version 2.0: the ability to plan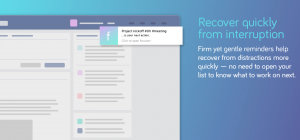 multiple days in advance, and the ability to integrate the calendar to visualize available time during the day. Early users reported that major design improvements helped make Focuster "THE place" where they enjoyed spending time. And, it encouraged them to think big!
"That was it. We wanted to make a notable launch. We wanted to share Focuster," Jordan says.
Time to launch
Product Hunt is a hot marketing platform for a lot of startup products, and Focuster was no exception. The platform was ideal for launching Focuster as an alternative to the traditional press launch. Jordan says this publicity was the best way to get noticed by the unique community of makers and creators that were the intended core target users of Focuster.
Jordan made a decision to launch in the beginning of the year, a time when many of us are setting goals and making plans. Jordan says it's also a time when users are searching for new tools to support this process.
"On the morning of January 12, 2016, Focuster appeared on Product Hunt, and our entire team was ready to face anything — fix any bugs, answer any questions and hear any criticism. But luckily, the Product Hunt community was amazed by Focuster. We received so many good reviews and useful feedback, signups for a trial, and amazing conversations. It was a great feeling to be understood by the people you created your product for," Jordan reports. "In return, Focuster helps them to achieve their goals."
Focuster's Product Hunt launch performance resulted in over 563 up votes, placing them in #2 place for the day, with over 1500 signups.
You can get started on Focuster at http://www.focuster.com.
###
If you wish to republish this article, please follow our Terms of Use.
###
Tagged Focuster
Related Posts