Companies
CSUMB Hackathon Teams Create Cool Mobile Apps, Lifelong Connections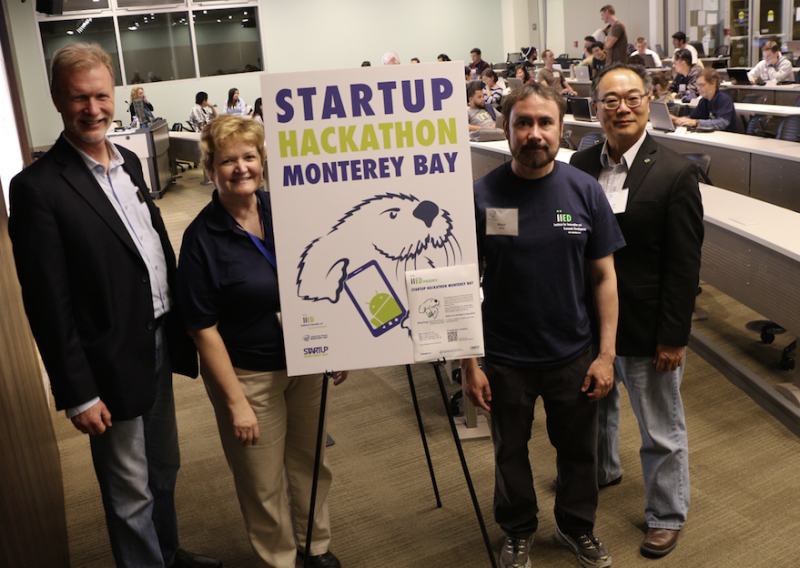 By Jan Janes
Special to Santa Cruz Tech Beat
(Photo above: Left to right, Associate Professor Brad Barbeau, Program Manager MaryJo Zenk, Assistant Professor Miguel Lara and Professor Eric Tao, organizers of the event, await the formation of teams as students vote for the projects they want to develop. Credit: Jan Janes Media)
November 24, 2015 — Marina, CA
Central Coast computer science and design students devoted an intense weekend at Startup Hackathon Monterey Bay and built prototype mobile Android apps to solve real business and community problems.
"This Will Be Fun"
Hosted by California State University Monterey Bay (CSUMB), organizers collected mobile app ideas from local nonprofits and small businesses. Friday afternoon, a dozen speakers faced the first competitive event: pitching to the audience of student developers. Participants then voted on their favorites, entered their experience, and the rankings selected the top app ideas and design teams.
Students and presenters met individually, discussed projects in greater detail, and hammered out which components to realistically attempt during the weekend.
"This was my first time participating in a hackathon," said Matt Wall, CSUMB computer science student. "I usually work on stuff by myself, so the dynamic here was nice, working with other people, collaborating."
Most of the three- and four-member teams had never met one another before the weekend. They brought a wide range of user experience, design and computer science knowledge to the projects. Wall said his group was strong on computer science, "But at the Android level, two of us are beginners and one didn't know anything. We all definitely learned something."
Mobile application development is viewed as essential for the regional entrepreneurship ecosystem as technology startups increase.
Michael Constable, a freshman from Cuesta College exploring majors, came to see what it was all about. "I was on a water polo team for four years in high school. I was worried that computer science would be more individual work. But all the collaboration I've seen over the weekend made me want to stay with computer science as my major."
From Pitch to Product
Fueled with pizza Friday night, along with snacks, soda and meals throughout the 40-hour sprint, nine teams tackled mobile app projects as diverse and difficult as member database development and a financial calculator to a brainwave music finder and a smartphone game controller.
Markus Shaw worked on the Monterey Mandarin Tutor project, using concepts from its website to create the mobile app. "We focused on a flashcard program and an external database with Chinese translations of English phrases," he said. "We built four decks, now it's easy to add more."
Sean Sabour worked with the Turbo Finance team to adapt a project originally developed in Pascal into an Android app. He predicted finishing 95% of the project before the deadline.
"We've designed the login database, so it connects to an external, remote database," he said, as well as templates. And now that the team has formed, he saw the opportunity to continue working on the project after the weekend. "Yes, definitely."
Expanding the Ecosystem
In its fourth year, Startup Hackathon Monterey Bay opened up pitching to for-profit companies and startups, in addition to nonprofts, to offer more variety of projects. The event was rescheduled from March to November to create a pipeline into Start Up Weekend the last weekend of January 2016, when students develop a business model. An additional event, Start Up Challenge, follows in the spring with multiple workshops, pitches and competition.
"So, if a cool idea comes out of here, while they're working on it, they could develop that in the new venture competition," said Brad Barbeau, Associate Professor in CSUMB's College of Business. Start Up Challenge was originally a program of the Marina Technology Cluster. The university stepped in to help keep it going four years ago, after a change in government funding.
"The Start Up Weekend is more business focused, while the hackathon is more tech focused with the app development," said Barbeau.
Building Apps and Leadership, One Step at a Time
"This type of event gives students a chance to work on real world problems, engage with the community, make good money and have a real impact on society," said Eric Tao, who has been a professor with CSUMB's School of Computing & Design since 1998. He is also founder and director of the Institute for Innovation and Economic Development.
Three programs — business, computing and design, and innovation and development — moved into the newly constructed, designed Business and Information Technology building last July. Hackathon participants had free, expansive use of the facilities for the weekend. Sliding glass doors create temporary enclosed rooms, then roll open to wide walkways, encouraging ideas and interaction.
"This is the glue to connect the university, business, technology and the community," said Tao.
High Noon Sunday
Students wrapped up their projects, sending them to a shared server with a time stamp of noon Sunday. Representatives who pitched their initial ideas returned to campus, excited to see the results. Teams prepared tabletop demonstrations along the expansive hallways so the judges could interact with the mobile app prototypes.
Judging the projects were Marsha Moroh, Dean, College of Science; Shyam Kamath, Dean, College of Business; Glenn Bruns, Assistant Professor, School of Computing & Design; and Sumadhur Shakya, Assistant Professor, College of Business.
Full of questions and intent on testing systems, the judges invested a lot time with each team, jotting their impressions and assessments into iPads. Students whose tables were further down the hallway listened in to better prepare their own presentations.
In all, nine teams worked on eight separate projects – one project was so complex it needed two teams to fully implement the mobile app.
According to Tao, "In three days students learn they can build something. It might not be 100 per cent, but they demonstrated they can make this work. In the end, if they participated, they have won."
Smartphone Game Controller – 1st place (tie)
Create an Android app that will simulate an Xbox-like controller connected over USB.
Team: Arash Aria, Kieran Burke, Brian Huynh, Josh King
RemodelMate – 1st place (tie)
Connect homeowners with contractors nearby. Search for contractors by project, type, location and tags. Get pricing for many contractors at one time.
Team: Chad Hall, George Harter, Michael Sarmiento
Turbo Finance – 2nd place
An application to aid in mortgage calculations and investing.
Team: Cody Boaz, Pete Choi, Sean Sabour
Brainwave Music Finder – 3rd place (two-team tie)
Play music according to your mood.
Team 1: Uriel Antonio, Andre Borner, Brandon Lockwood
Team 2: Marcus Dixon, Rob Macias, Harrison Oglesby
mrmrs
Create a native mobile experience for shopmrmrs.com, a wedding site.
Team: Michael Gu, Azusa Miyagi, Pedro Munoz, Anthony Symkowick
Party On
A map tracker for a party of friends – a contextual-based notification app with information about your surroundings and friends.
Team: Chris Breuner, Dante Lacey-Thompson, Tobias Lonnerod Madsen, Cynthia Martinez
Monterey Mandarin Tutor
Represent the Monterey Mandarin Tutor website as an Android app.
Team: Daniel Cadwell, Imara Dharmakirthi, Markus Shaw
Simplease Solutions / Boys & Girls Club
Facilitate registration for club members, allow administrators to access member data and emergency contact information.
Team: Miguel Duran, Richard Isom, Matt Wall
Duran, who traveled from Cal Poly San Luis Obispo to participate, summed up the weekend.
"It was cool, fun. It was a cool learning experience."
###
Jan Janes, Communications Director, Web Publisher, Television & Radio Producer, Photojournalist, Social Media Architect, can be reached on LinkedIn.
###
If you wish to republish this article, please follow our Terms of Use.
###