Companies
HZDG Settles into Home Above Abbott Square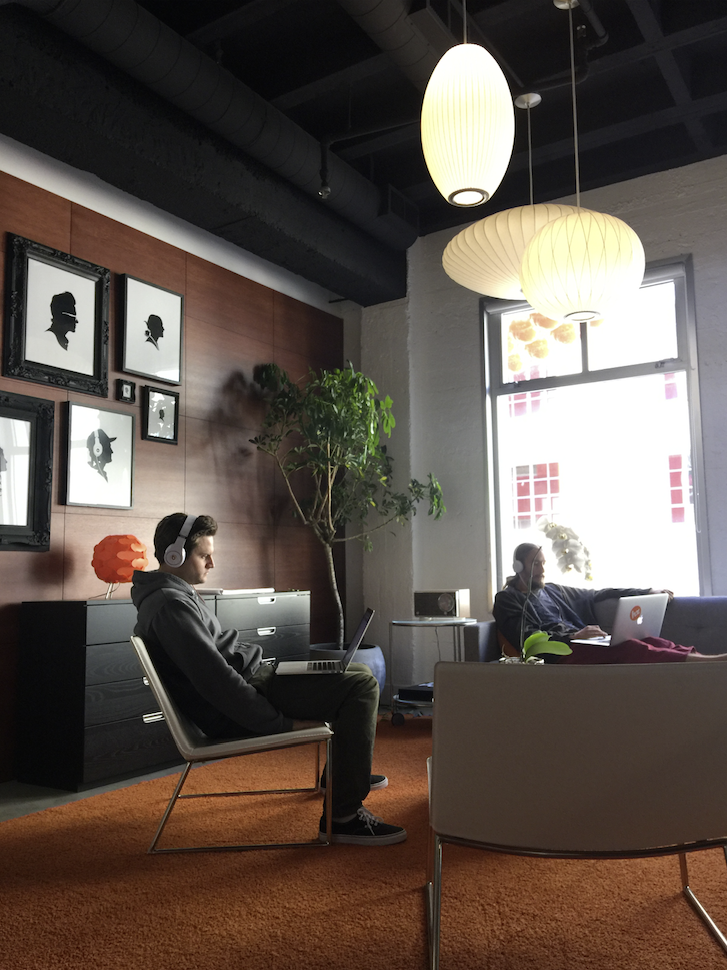 By Ali DeMoro
Account Coordinator, HZDG, Santa Cruz Office
Special to Santa Cruz Tech Beat
(Photo above: HZDG developers Ryan Milano and Scott Hedstrom work comfortably in the "lounge area" of the office above Abbott Square in Santa Cruz. Credit: Ted Holladay)
November 19, 2015 — Santa Cruz, CA
It wasn't too long ago that Santa Cruz Tech Beat posted an article about the exciting news of HZDG opening up a brand new office here in Santa Cruz last spring. Since then, a lot has happened. Our branch is steadily growing, our office is flourishing, and new business potential is drastically increasing.
One of the biggest changes of all since HZ began taking up residence in Santa Cruz is that we have moved into a brand new space in the McPherson Center, overlooking the trendy, bustling, Abbott Square on 725 Front Street, next door to the Museum of Art and History. Ted Holladay, our "Commander in Chief" is brilliantly leading the way for our Santa Cruz office, with a goal of making our new spot a center hub for creative exhibition here in the city. We are looking to grow and become a permanent institution of artistic visionaries here in the city and want to get acquainted with our neighbors who either share our love of art, branding, advertising, development, or just in general want to create something awesome.
"Santa Cruz is the perfect new location for HZDG, as it has the right mix of creativity, tech, talent and lifestyle. Once the owners of HZ took a tour of Santa Cruz, they knew right away they should open their fifth studio right here. I'm very excited to be running this new studio for them, and helping make Santa Cruz shine at the same time." — Ted Holladay, VP/Creative Director, HZDG
This October, we hosted the Museum of Art and History's Glow VIP party in our space, and provided an area where our guests could chat, have a cool refreshment or snack, all with a great view of the numerous art installations and entertainment happening in the square below. In addition, just last Friday, we hosted a happy hour for our lovely neighbors from NextSpace. These efforts, in part, serve as a warm welcoming for our friends to see our new space but also, to raise awareness about HZ. It is our ultimate goal to become a contributing asset to the Santa Cruz community where we can host meetups on a regular basis for creatives to meet, participate, and build together.
We love to collaborate, it's one of the things we do best at HZ, and we would love to collaborate more with the Bay Area. Six of us currently work in the Santa Cruz office, and HZ is still hiring. Currently, we are looking for a Frontend Developer and a Mobile Frontend Developer. [Editor's note: Check Santa Cruz Tech Beat's jobs page for more information.]
It is our great pleasure to be able to work in the treasure of paradise here in the City of Santa Cruz and look forward to what lies ahead.
About HZDG
Branding. Advertising. Digital Marketing. We live for this stuff. For nearly 30 years, HZ has thrived on developing unforgettable and immersive experiences for our clients. We are a marketing agency who loves putting our minds to work until we have creative solutions worth of our loftiest ambitions. Located in Rockville MD, Baltimore MD, New York NY, Washington D.C. and now, Santa Cruz, CA!
###
If you wish to republish this article, please follow our Terms of Use.
###
Tagged HZDG, Ted Holladay
Related Posts