Companies
Looker's Data-Driven Culture –- It's not just about the data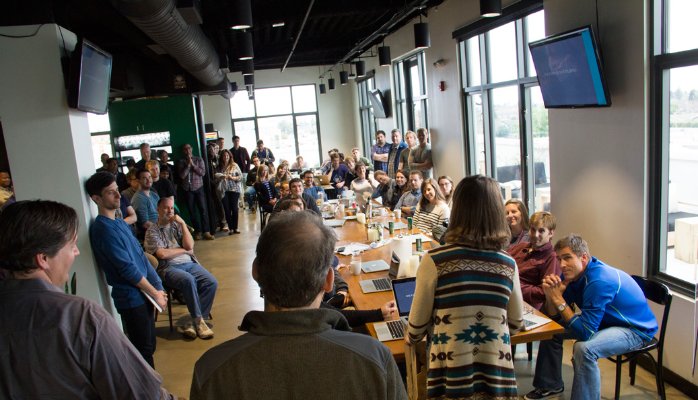 (Source: The following LinkedIn article is by Carolyn Hughes, VP, Talent & Culture at Looker.)
October 29, 2015 — Santa Cruz, CA
Looker's VP of Talent & Culture, Carolyn Hughes, explores Looker's corporate culture
The best Corporate Cultures are real. They feel real. And although they may vary dramatically in substance and character, the real-ness is immediately palpable when you're present in such an organization.
So what makes a culture real?
At Looker, we believe it's when our internal value proposition is well aligned with the external value that our product is delivering out in the world. The brand is consistent. Working at Looker should feel similar to the experience of leveraging the Looker product in a Customer Company.
So how do we make that happen?
First, we pay close attention to the impact that Looker has on the businesses that we serve. We see (and talk a lot about) Looker enabling a real, data-driven culture to emerge in our customer organizations.
But what does that mean, exactly?
Does it mean we toss out ideas and intuition in favor of data? Does it mean that the person with the best data wins? Well, of course not… we believe that a true data-driven culture has far more depth.
"We are Enabled."
Fundamentally, that depth is about access; access to the key drivers of the business for any and all who are curious enough to look. And not just static access – access to explore: to conduct "what if" scenarios, to test hypotheses, to have an idea that leads to another idea, that then leads to a breakthrough. Looker enables everyone in the business to combine curiosity and intuition with real-time results, leading to actionable "a-ha" moments that fuel innovation and success.
Continue reading article here: https://www.linkedin.com/pulse/lookers-data-driven-culture-its-just-data-carolyn-hughes
###
Looker is hiring. Check job openings on Santa Cruz Tech Beat's jobs page.
###
Tagged Looker