Companies
Sand Hill Angels Help Entrepreneurs Hone "The Pitch"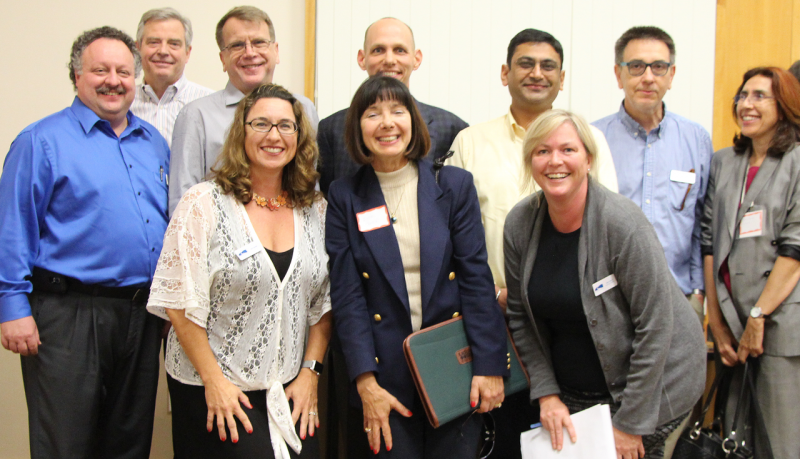 By Jan Janes
Special to Santa Cruz Tech Beat
(Photo above: Advisers attending the Sand Hill Angels RAW pitch night in Santa Cruz include (back row l-r) Ryan Kennedy, member, Sand Hill Angels; George Jones, Vice President, Sand Hill Angels; Rick Lazansky, Board Director-deal screening; Mark Mitchell, member, Sand Hill Angels; Anshuman Tripathi, Stanford University Graduate School of Business, Sloan Fellow, Entrepreneurship; Andy Freeman, entrepreneur relations, Sand Hill Angels; Costanza Nieto, founder & CEO Globaltech Bridge; Rich Page (not pictured). Front row (l-r) Terri Mead, member, Sand Hill Angels; Judy Owen, Calumet VC/Angels by the Sea; Kate Allison, Executive Assistant, Sand Hill Angels. Credit: Jan Janes Media)
October 25, 2015 — Santa Cruz, CA
"The better we understand your business, the more likely we are to invest."
Ten intrepid entrepreneurs took center stage at Sand Hill Angels RAW pitch night last Thursday evening, presenting a range of breakthrough ideas to a gathering of financial angels, world class business advisers and local techies.
Local startups accepted the invitation to a pitch session for young businesses in response to an invitation from Sand Hill Angels director Mark Mitchell. Mitchell said the group wanted to offer a low pressure environment for new companies to present ideas and receive feedback. He also wanted to let start up companies know about Sand Hill Angels interest in investing, now or later.
Bonnie Lipscomb, Director of the Office of Economic Development for the City of Santa Cruz, one of the sponsors of the evening's event, shared an invitation to businesses interested in locating in the city, explained the business services provided through the department and on its website, and offered "woodie" sunglasses as very cool swag.
Asked about the RAW part of the event name, Sand Hill Angels founding director and vice president George Jones said, "It's still new, being assembled, in process, cooked up: RAW."
Andy Freeman, Entrepreneur Relations with the funder, was also direct. "We do RAW for better deal flow. We want to see better pitches. We want to see companies earlier, and we want to see more companies."
Explaining how Pitch RAW helps young companies gain visibility with a funding source, Freeman said, "The better we understand your business, the more likely we are to invest."
As representatives for each company stepped up to their 15 minutes of fame — 5 minutes each for their presentation with no visuals, Q&A, and finally feedback — a clock ticked down on the screen behind them, with the audience participating in the timekeeping.
Participants who had presented in other forums shared their perspectives about the Pitch RAW venue.
"I got to hear the feedback they normally discuss without the entrepreneur in the room."
Lise Quintana presented during Santa Cruz Tech Raising 2014 and said, "This was very different from Tech Raising. It's less about finding out if this is the right idea, but finding what this idea is worth to people."
Keri Waters, who recently presented Calliope Waterworks at the Santa Cruz New Tech Meetup, noted the difference in focus. "The meetup is about building community, strengthening the tech ecosystem," she said. "Tonight was incredibly valuable because I got direct feedback from investors, and I got to hear the feedback they normally discuss without the entrepreneur in the room."
Presenting companies were:
Every company fielded five minutes of questions from the advisers pertaining directly to the details of their presentations. The business advice was specific and on point. The final five minutes was devoted to feedback, where both the advisers and the audience offered pointers to improve the pitches the next time.
For all of the participants at this Sand Hill Angels RAW pitch night, there will definitely be a next time.
###
Jan Janes, Communications Director, Web Publisher, Television & Radio Producer, Photojournalist, Social Media Architect, can be reached on LinkedIn.
###
If you wish to republish this article, please follow our Terms of Use.
###
Tagged Sand Hill Angels