Companies
Foodworthy App Envisions New Future for Food Reviews

By Josh Bernfeld
CEO, Foodworthy, Inc.
Special to Santa Cruz Tech Beat
September 9, 2015 — Santa Cruz, CA
We are proud to announce the launch of Foodworthy, an image-based food rating app on iOS devices. The app encourages users to snap and share photos of their food at restaurants and provide a short review. Users have access to up-to-date results of the most popular food in their area.
Upon opening the app, users have immediate access to the information they care about most — appetizing photos of food worth eating. Users are presented with three main feeds of content including: new posts, popular posts, and posts from users they follow. The content can then be filtered with respect to price range, the user's distance from each restaurant, and whether the business is currently open, as well as features such as valet parking or whether or not they offer a kid's menu. Lastly, users can further filter results based on specific dietary restrictions such as vegetarian or gluten free as options.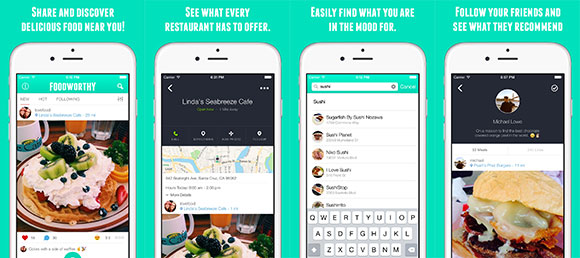 With every image, users are able to like and comment in a fashion much like Instagram. Tapping on a meal's picture brings up a feed of additional pictures posted at the restaurant along with additional information about the business, such as the phone number, directions and complete hours, as examples.
We built Foodworthy because the current method of finding food using restaurant reviews was inadequate. Other apps fail to focus on the most important part of discovery, but Foodworthy focuses on the central part of any dining experience—the food itself. The app has made finding food an easy and enjoyable experience.
Foodworthy was constructed around the basis that younger generations are increasingly visual. We discovered that people overwhelmingly prefer a good photo with a concise review, to a long often opinionated written review. Knowing this, we have been able to produce a powerful app that both users and restaurants love.
Foodworthy is the first of its kind because it's so simple and obvious that it has been overlooked by competitors. Ask many entrepreneurs what they are doing and they will tell you about their complex app that focuses on a niche that isn't remotely widespread or may not even exist.
We are proud to say that since its release, Foodworthy has seen tremendous organic growth, and every day continues to expand into new regions.
Food is a universal language
If there is anything everyone in the world has in common it's that we all love to eat. A Foodworthy user will be able to open the app anywhere in the world, look at a local photo and say 'I want that.'
Behind Foodworthy is an advanced geo-fencing algorithm which provides the most relevant results dependent on a user's current location, all the while still providing useful results to regions that are not yet part of Foodworthy's network. This lets us build virality at any point on the globe 24/7.
We set out to build something that was useful. What we have is exactly that and everyday we continue to expand.
Foodworthy is available in the iOS App Store.
Learn more about Foodworthy:
###
Josh Bernfeld, CEO at Foodworthy, Inc., is in his third year at UC Santa Cruz. Bernfeld has worked with the iOS platform for 7 years and is currently studying computer science.
###
If you wish to republish this article, please follow these guidelines:
Add "The following article by <name of author> was originally published in Santa Cruz Tech Beat" at the top of your copy of SCTB's article and link that text to the original article in SCTB.
If you follow the above guideline (#1), you are welcome to publish a couple paragraphs of teaser text and then "Continue reading in Santa Cruz Tech Beat." and link that text to the original article in SCTB.
Learn more about our guidelines here.
###