Companies
On that Startup Grind in the Monterey Bay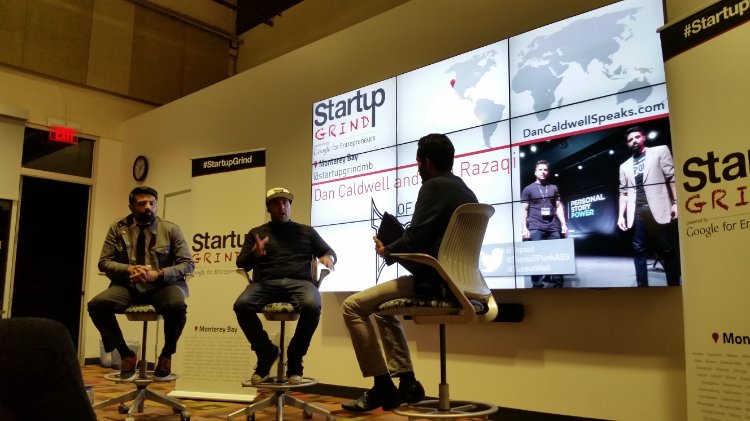 By Pete BIggam
Co-Director, Startup Grind Monterey Bay
May 28, 2015 — Santa Cruz, CA
(Photo above: Startup Grind Monterey Bay hosted Tapout Clothing founder Dan Caldwell and Tapout Films President Wali Razaqi. They are being interviewed by Victor Robledo, founder of the Monterey Bay Chapter and Biggam's good friend. Source: LinkedIn)
I have lived in the Monterey Bay almost my entire life. I lived for a short time in San Francisco while attending the Academy of Art while studying Advertising & Marketing.
I came back to the Monterey Bay and the place I call home not only because of its beauty but also because of its community. It is a special place where most people know each other. It is mostly known for its action sports such as skateboarding, surfing and mountain biking.
Famous Brands such as Santa Cruz Skateboards, Santa Cruz Bikes and O'neill Wetsuits call this place home. But Technology has always been a part of this community. Santa Cruz Operations (SCO), Borland, Seagate and many more have a called this place home.
Many still do such as Plantronics (First Headset on the Moon), MotionX (Most Wearable Tech Patents) , Looker (BigData Analytics) , PredPol (Predictive Policing), Yardarm Technologies (Big Data for Weapons Systems) and this is just Santa Cruz County, and only a few of the many tech companies here.
The Monterey Bay is growing with ideas, sparks are flying, a spaceport is in the works, agtech is on the rise, drones are buzzing overhead as guys do backflips on 2 wheels, people are riding around on electric OneWheel skateboards.
We are home of the 8th Largest Meetup group in the nation thanks to people like Doug Erickson and his team at the Santa Cruz New Tech Meetup.
For so long people traveled what most locals call the Hill or Hwy 17 to go to work in Silicon Valley. A treacherous 4 lane mountain road full of Big rigs and speed racers. Now veterans in the tech and startup scene they are starting their own businesses where they have lived for many years.
This Bay is just getting started on its road to becoming the next Silicon Valley, Drone Valley, Space Valley or whatever name the collective of entrepreneurs decides to call it.
There is something very special about this place and why it is hard to leave. But it is why I want to build my businesses here, why I want to help others do the same. I love helping others and I think that the Monterey Bay is the place to do all that you can imagine and more.
Where am I going with this? Startup Grind of course. Startup Grind is an international community of entrepreneurs. I was brought into this wonderful family by a fellow entrepreneur who I met at a Startup Weekend Event. He needed some help and told me the event values and I was all in.
Make Friends Not Contacts, Give Don't Take, Help Other's before you help yourself.
Startup Grind has taught me that to be an entrepreneur it takes a team, it takes heart, and it takes family. Family can be your blood or it can be a group of people with the same values.
I have no doubt in my mind that if I was in any of the 167 cities we are in that I would have a couch to crash on and introductions to the culture, food and fun that each Chapter director helps to promote.
If you are in the Monterey Bay visiting check out StartupGrindMB.com or Startupgrind.com/montereyca and come to one of our events. We aim to Educate, Entertain and have some fun.
This article was originally published here: https://www.linkedin.com/pulse/startup-grind-monterey-bay-pete-biggam-dsce
Tagged Startup Grind Monterey Bay