Companies
Looker moves into The Ritt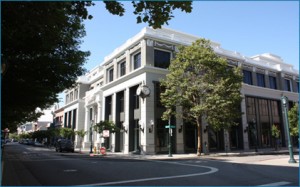 by Jondi Gumz
Santa Cruz Sentinel
[Editor's note: Santa Cruz Tech Beat published related articles, A New Lookout for Looker, on June 13, 2014, and More on Looker moving into the Rittenhouse Building on June 24, 2014.]
Looker, the fast-growing startup in Santa Cruz, made its big move Friday, with 70 employees shifting operations to the top floor of the E.C. Rittenhouse Building a block away.
The 3-year-old tech company started by Lloyd Tabb, Ben Porterfield and Marc Randolph with seven employees, is the first tenant for the Ritt, a landmark building completed six years ago just before the economy crashed.
Looker's forte is software that enables employees of client firms to analyze data for business decisions.
For example, Venmo, which enables people to make payments at no charge from bank accounts or a 3 percent fee with a credit card, used Looker to figure out why a new version of its software created a mixup between "pay" and "charge."
Other Looker clients include Hotel Tonight, an app to find last-minute hotel rooms, Simply Hired, an employment website, Gilt, a shopping website, and Task Rabbit, a website to find people to do household tasks.
At midday, movers were pushing loaded carts inside Looker's cramped quarters at CruzioWorks as employees readied their belongings to go out the door. Atop each work station was a packed box but there were not many file cabinets.
"Everything's electronic," said Frank Bien, Looker's CEO.
He said the company is recruiting and expects to double its numbers to 140 employees by the end of 2015.
The company posted nine openings at Santa Cruz Tech Beat in September, including positions for a software engineer, assistant controller and data analysts.
Continue reading full article here: http://www.santacruzsentinel.com/localnews/ci_26705594/looker-moves-70-employees-rittenhouse-building-plans-double
###
Tagged Looker