Events
Bitcoin & Crypto-currency in Santa Cruz?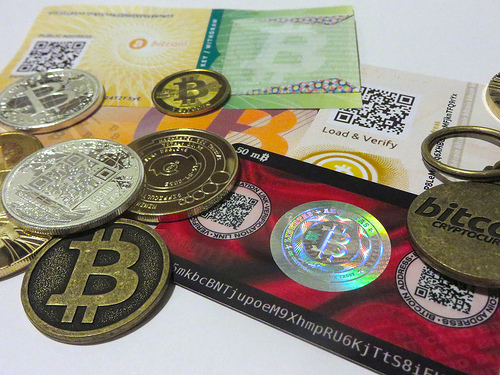 by Sara Isenberg
Publisher, Santa Cruz Tech Beat
The Santa Cruz Bitcoin & Crypto-currency Meetup held its first meeting on July 17. The three organizers, Patrick Reilly, Deborah Lindsay, and Sean Gilligan invite the public to attend the second meeting scheduled for Wednesday, August 20, 2014, 6:30 PM at NextSpace, 101 Cooper St, Santa Cruz. RSVP through the group's Meetup page. Join the conversation in the Facebook event for August 20 meeting. This group will continue to meet on the 3rd Wednesday of each month.
A conversation with Deborah Lindsay about this new local group
SCTB: What's up with the new Santa Cruz Bitcoin & Crypto-currency Meetup?
DL: This new Meetup sprang out of a NextSpace NextTalk that Sean Gilligan gave a few months ago.  Sean is a software developer who has been using and studying Bitcoin for about 18 months. He is developing software for the Mastercoin Foundation, a crypto-currency project that is complementary to Bitcoin.
The talk was very thorough, but there is so much more to know about this growing industry that we decided to organize an ongoing Meetup to really cultivate some local knowledge and potential business that uses crypto-currency.
SCTB: Why are you doing it?
DL: Personally, as a Crowdfunding consultant, I feel it's important to stay up on possible fundraising options. There have been entire campaigns funded via Bitcoin, so I'm doing it to be able to speak about this currency with authority. Sean is doing it because it's a passion for him and he's sharing his knowledge. Patrick is fascinated by the potential of crypto-currencies to drive reforms and innovations in both the operation of law and in matters of social equality.
SCTB: Who is it for?
DL: This new meetup group is for anyone with the same kind of curiosity as I've expressed here, but it can also be for anyone who has already been in the crypto-currency world for a while and just wants to share their knowledge and ideas with others. We are planning a variety of events that will appeal to anyone from absolute beginners to some of our local experts.
SCTB: Does the general public really need to learn about bitcoin or is it just for geeks? Why should the average non-geek care about bitcoin?
DL: This is a good question. I don't think anyone can predict where crypto-currencies are going, but right now they're presenting themselves as a way for folks to transfer money either through the purchase of goods, or simply to each other, that doesn't carry large transaction fees.  For example, if you send money using Western Union and the transaction fee is 12% of the payment, versus using a crypto-currency and there's a .05 cent transaction fee. Clearly that's an attractive option for maximizing your dollar.
The best story Sean shared with us in the July meeting is how it's being used by women in countries where they are not allowed to have any of their own money. Crypto-currencies can be managed using a phone, as long as you have an online "wallet." This gives these women an opportunity for a bit of freedom. For myself, if I never use the Bitcoin that I own but I help keep a system in place that helps women in those situations, then I say it's worth supporting. I do, however, expect I will shop with it, and with Spencer Lindsay as my husband, I need to actively work on being uber-geeky or things get fracked and turn to the dark side pretty quickly.
Our meetings will be held on the 3rd Wednesday of the month at NextSpace, 101 Cooper St., Santa Cruz. The agenda is:
6:30 to 7:30 PM: set up your wallets, get some help with buying things, or just gabbing.
7:30 – 8:15 PM: guest speaker, (Sean Gilligan is the August 20 speaker)
8:15 to 9 PM: more networking, buying selling stuff, and generally being geeky.
We have a Facebook event which you can chat on, as well. Hope to see you there!
###
Sara Isenberg publishes Santa Cruz Tech Beat for the benefit of the extended business and technology community. When she is not volunteering her time for the tech scene, Sara makes her living by managing software projects, web strategy planning, and providing development team services (including account management, vendor management, strategic partner management, beta project management, referrals to qualified technical team members, and more). Please visit her website: Sara Isenberg Web Consulting & Project Management, or contact Sara by email if you have any project management, account management, or Development Team leadership or service needs.
Tagged bitcoin