Companies
Q&A: Focus on iFundLocal
by Sara Isenberg
Publisher, Santa Cruz Tech Beat
Post-TechRaising with Deborah Lindsey
[Editor's note: Santa Cruz Tech Beat has been following up with some of the teams that were active at TechRaising 2014 in April, including Infinity Gloves and Interface Vision.]
In this Q&A, SCTB catches up on what Deborah Lindsay has been up to since TechRaising.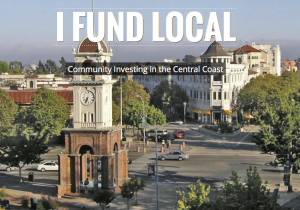 SCTB: You had a team at TechRaising 2014. What was/is that project?
DL: At TechRaising my amazing team created CrowdCentralNews. It was a directory site for crowdfunding projects listing both crowdfunding platforms and businesses that supported crowdfunding campaigns. However, we have since closed CrowdCentralNews and I'm focusing on iFundLocal now, which was my original idea for TechRaising but I got  a bee in my bonnet at TechRaising and we worked on Crowd Central instead. iFundLocal is a place to showcase Central Coast Crowdfunding projects. It will develop into more but right now it's a weekly or bi-monthly listing of crowdfunding projects in Santa Cruz, Monterey, and Santa Clara County.
SCTB: Can you say more about iFundLocal vs CrowdCentral?
DL: Well, again CrowdCentral was simply a tool to enhance the success rate of a crowdfunding campaign. Only about 40% of campaigns meet their goals, which is too bad considering many of them have very good solutions to the problems we/they face. However, as I ran the financial scenarios, the model was just not there to be able to justify further investment.
IFundLocal is a platform to promote local campaigns. The intention is to encourage support for local projects.  The more people who are on the mailing list and know of local crowdfunding campaigns, the more we fund these efforts and grow Central Coast industries and jobs.  The current incarnation of the iFundLocal is not the final result by any means, but it's a good place to begin.
SCTB: Who is on your team?
DL: My team for CrowdCentral was Erik Gillberg, Spencer Lindsay, Michael Baba, Bennet Roesch, Kaya Lindsay, Kenna Lindsay and myself. Everyone contributed significantly before, during and since TechRaising. We are an effective team! iFundLocal is mostly myself, but Erik GIllberg built the site and helps as he's able — he's super busy with his start up ShowTouch. Bennet Roesch and Michael Baba help as they can, too.
SCTB: How is iFundLocal funded?
DL: There's been no funding to date, save my personal input and volunteers.
SCTB: What are your plans for the next 6 months? 12 months?
DL: Currently, I'm in the Lean Startup mode, my plan is to continue to test ideas and build my email list to be able to draw from the experiences and wisdom of the community. I've just added a Free Campaign review for pre-launch folks. I'm also looking for a business partner to support the growth of the project, preferably someone with more business and software experience than myself. Certainly having a social component so a supporter can share their involvement in a project is on the horizon.
SCTB: Is it isn't too early to ask… what some of your successes so far?
DL: Well, when you're in Lean mode, everything is a success because you learn, you stay lite and you pivot when one idea proves unsustainable. I've had several talks with local business leaders since TechRaising and they are all supportive of the local concept; that keeps a spark under my seat, for sure. Personally, I'm pumped about the direction iFundLocal is going. My mind is clearer now then it has been for a few months.
SCTB: Biggest challenges?
DL: I've been 100% invested in iFundLocal and CrowdCentral since January but my attention needs to go toward finding work to supplement the growth of iFundLocal. That's a challenge. Also, my steep learning curve and research in the world of software development, crowdfunding, and startups, that's been big. I'm also an MBA student a Presidio Graduate School in their Sustainable Management program in SF, there's a lot to juggle. All doable, but those are my challenges.
SCTB: What do you want the local community to know most about what you're working on?
DL: When I had my daily radio show years ago on KRXA called Tomorrow Matters, which focused on solutions for today for a better world tomorrow, my greatest walk away for myself was that I could personally make a difference in promoting local economies, job creation, and wealth redistribution. People with good, meaningful work, that supports balance in their lives and a future for their families, in my mind, equals peace and sustainability.
IFundLocal is about job creation, it's about innovation and solutions, it's about keeping money in our community, and it's about having more control of your money by knowing where your investments are going.  But ultimately, it's about creating a sustainable, peaceful future, one that our kids will be happy to live in.
I would encourage people to visit IFundLocal.com, and sign up for the email. Also, if anybody has a project, they can sign up for a free review of their campaign by clicking in the top left corner of the home page of iFundLocal.com.
###
Sara Isenberg publishes Santa Cruz Tech Beat for the benefit of the extended business and technology community. When she is not volunteering her time for the tech scene, Sara makes her living by managing software projects, web strategy planning, and providing development team services (including account management, vendor management, strategic partner management, beta project management, referrals to qualified technical team members, and more). Please visit her website: Sara Isenberg Web Consulting & Project Management, or contact Sara by email if you have any project management, account management, or Development Team leadership or service needs.
Tagged iFundLocal