Events
2nd Annual UCSC Entrepreneurship Showcase
by Sara Isenberg
Publisher, Santa Cruz Tech Beat
Saturday, June 7, 1-4pm: Keynote, Expo, and Networking for students, business leaders, UCSC faculty, and alumni
The UC Santa Cruz Center for Entrepreneurship invites the public to their 2nd Annual UCSC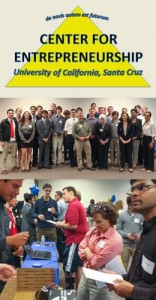 Entrepreneurship Showcase on Saturday, June 7, 1-4pm at the UCSC Silicon Valley Center, Santa Clara. Admission is free.
This annual event connects the community with UCSC student entrepreneurs who have been developing business concepts, prototypes, and business plans.
The afternoon will include networking, meeting the students and hearing their business pitches, and hearing the comments of a distinguished keynote speaker.

Among the highlights, the event will feature:
A keynote address by a leading thinker and participant in entrepreneurship.
An interactive showcase and expo of student-designed business concepts marking the culmination of a 20-week entrepreneurship course connecting creative, energetic students with business mentors under the leadership of serial entrepreneur Dr. John Skardon.
Networking with students, business leaders, UCSC faculty, and alumni.
Hors d'oeuvers, beer, wine and nonalcoholic drinks.
An experienced Board of Judges will award prizes to the top student teams, and everyone in attendance will vote for the People's Choice Award. In total, $10,000 will be awarded to student teams.
Read full article and RSVP here: https://events.ucsc.edu/event/2390
###
Sara Isenberg publishes Santa Cruz Tech Beat for the benefit of the extended business and technology community. When she is not volunteering her time for the tech scene, Sara makes her living by managing software projects, web strategy planning, and providing development team services (including account management, vendor management, strategic partner management, beta project management, referrals to qualified technical team members, and more). Please visit her website: Sara Isenberg Web Consulting & Project Management, or contact Sara by email if you have any project management, account management, or Development Team leadership or service needs.
Tagged UCSC Center for Entrepreneurship, UCSC Entrepreneurship Showcase