Companies
Powerslayer by Velvetwire featured at MoMA NYC for NYCxDESIGN
by Sara Isenberg
Publisher, Santa Cruz Tech Beat
In honor of NYCxDESIGN (New York City's official citywide celebration of design) the MoMA Design Store has selected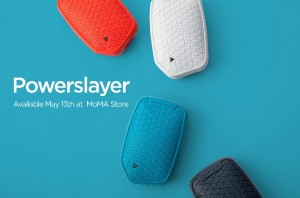 Velvetwire's Powerslayer and a small suite of other products brought to life by Kickstarter.
Products were chosen on the qualities of Good Design ascribed by the museum in their innovation of function, use of novel materials, and technological advancement.
Powerslayer will be in the display windows at both the MoMA NYC Museum and the MoMA Soho store during NYCxDESIGN celebration, May 9-20. If you're in NYC, go check it out.
Jennifer Lee, Velvetwire cofounder, says that the collaboration with Kickstarter and MoMA is already getting great coverage. She recommends that readers who are interested check out the latest on Fast Co.
Santa Cruz Tech beat wrote about Velvetwire and Powerslayer in a recent feature article Velvetwire opens online store with energy saving mobile charger.
###
Sara Isenberg publishes Santa Cruz Tech Beat for the benefit of the extended business and technology community. When she is not volunteering her time for the tech scene, Sara makes her living by managing software projects, web strategy planning, and providing development team services (including account management, vendor management, strategic partner management, beta project management, referrals to qualified technical team members, and more). Please visit her website: Sara Isenberg Web Consulting & Project Management, or contact Sara by email if you have any project management, account management, or Development Team leadership or service needs.
Tagged Powerslayer, Velvetwire