Companies
Surfnet teams with Sunesys to win $10.6 million grant for regional fiber network
by Bojana Fazarinc
Surfnet Communications

Bringing high broadband access, speeds and affordability
A state grant for a 91-mile fiber optic network, bringing local-controlled and operated broadband infrastructure to Santa Cruz, San Benito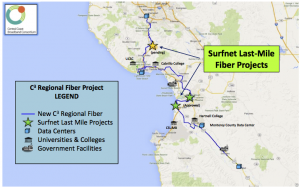 and Monterey Counties was approved by CPUC at the end of last week and is expected to benefit local economy and communities with greater broadband access, higher Internet speeds, at a lower cost.   A local Internet Service Provider, Surfnet Communications, teamed with Sunesys, a national fiber management firm, to win this $10.6 million grant, and will, for its part, be providing connection from this fiber network to two initial "last mile" communities.  They plan to deliver 100Mbps at $65 to residents of those selected communities.
 "That much bandwidth is also a potential game changer" says Surfnet Communications President, Mark Morgenthaler. "Fiber is a 'total communications solution', not just better Internet connection.  With high bandwidth fiber, people have the option to replace their home phone service with low cost Internet enabled VoIP providers like Vonage or Skype.  They can also get TV and other video content directly from many Internet TV providers like Netflix, Roku or Apple TV, reducing the customer's dependence on costly cable or satellite Triple Play bundles."
The grant is part of a state stimulus plan to help bring advanced information and communications technology services to areas of the state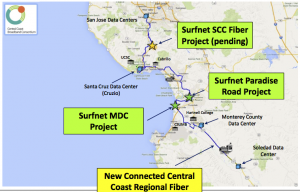 without adequate broadband capacity so essential to today's economic growth, job creation and other substantial social benefits.  To that, Morgenthaler adds, "Local ISPs have traditionally been the companies dedicated to providing as much bandwidth as possible to underserved communities."  The coming local fiber, stretching from Santa Cruz in the north to Watsonville, Moss Landing, Castroville, Salinas, Gonzales and Soledad in the south,  will enable these local ISPs to more affordably build lateral extensions and better serve their existing commercial and residential customers with very high speed broadband."  Some 68 unserved and over 1,000 underserved census blocks have been identified along the corridor of the backbone.  (Unserved & underserved designations mean having inadequate, unaffordable broadband access for today's requirements, defined as <6Mbps.) The grant is part of a state stimulus plan to help bring advanced information and communications technology services to areas of the state without adequate broadband capacity so essential to today's economic growth, job creation and other substantial social benefits.
High support and expectations for Fiber Network
This Connected Central Coast Regional Fiber Project was substantially supported by the Central Coast Broadband Consortium (CCBC), along with city mayors, county supervisors, universities and schools, local business councils and IT officials in the region.  Considered by many the most significant improvement to the local broadband infrastructure in years, this project also will benefit major commercial and institutional customers all along its route, at wholesale rates up to ten times less than currently available from the major carriers.  That should reduce dependence on those few incumbent carriers such at AT&T, Verizon and Comcast, encouraging competition and better choices for all in the region.
Aptos supervisor Zach Friend, the man behind the push to reform broadband infrastructure policy in Santa Cruz County, joined Monterey County supervisors Simon Salinas, Joseph Calcagno and Dave Potter in supporting the fiber project with the CPUC.  Pointing out that there are "still more jobs in agriculture" in the Salinas Valley than in any other sector, Commissioner Catherine Sandoval highlighted the acute need for better broadband access in the Salinas Valley. During the public meetings the CPUC held last year she declared, "This could be a game changer." She added, "This is a middle mile project, a back bone that is critical."
Maryanne Leffel of the Monterey County Business Council points out that "Broadband connectivity is essential for the future health of the Central Coast economy." Local government and major educational institution officials also see the project as a vital enabler for universities with programs requiring massive broadband capacity, such as the UCSC's Biotech program, or CSUMB's CETF programs.  Gonzales Councilman Robert Bonincontri and city manager Rene Mendez have identified the tremendous need for connectivity in the Salinas Valley, where unemployment rates are high and household income levels are low, even when work is available.
"As more of our daily activities at home, school and at work depend on high performance broadband, it is essential for everyone to have this added local infrastructure available.  It can help to close the 'digital divide" explained Arlene Krebs, Director of Wireless Education & Technology Center at California State University Monterey Bay (CSUMB).
Reducing dependence on established carriers
Joel Staker, Chairman of CCBC, sees the coming fiber network as a culmination of a 10-year effort to by representatives from counties, cities, universities and local ISPs to build a locally-owned and -operated broadband infrastructure for the Central Coast that would reduce costs and dependence on incumbent broadband carriers. Joel Staker, who is also Network Administrator for the City of Watsonville, and the CCBC Tech Expert Group, were essential to the project design and defense against the multiple challenges to the project from those established carriers. Steve De Franco from Sunesys worked to substantially reduce their proposed rates compared with standard rates from major carriers to help achieve the cost benefits. He added, "Sunesys also worked hard with local ISPs, such as Surfnet, to address affordable access, and increasing bandwidth requirements right to the home." The project is expected to take two years to build.
Sunesys has a good track record. The coming network will interconnect in Santa Cruz where Sunesys earlier built a dark fiber connection to Santa Clara in Silicon Valley.  Since the Santa Clara connection was built 4-years ago, the price of wholesale Internet bandwidth in Santa Cruz has dropped by a factor of one hundred, to less than a dollar per megabit per month.  Cruzio, a local ISP, leveraged this access to light up last mile fiber optic connections for downtown Santa Cruz businesses and improve speed and reliability for thousands of consumers.  This new fiber backbone is expected to do the same for Salinas Valley communities.
"The key point for me was that typically these projects only make a price commitment for two years," said Commissioner Michel Florio. "In this case, the provider [Sunesys] has made a commitment for at least five years."  This provides a solid foundation for a vibrant local ISP industry that can build the broadband infrastructure necessary to propel the Central Coast economy into the future.  The state has also announced another round of funding for 2014/15.  This offers opportunities for additional funds to expand the backbone down to San Louis Obispo, and to build out more extensions to communities and residential neighborhoods along the route.
###
Surfnet Communications is a Central Coast-based, community-oriented broadband Internet Service provider (ISP) that enables local businesses and residents to fully leverage the Internet for their work, study and play.  Their emphasis for the past 10-years has been on broadband wireless access for mountain and coastal communities that are un-served by DSL or Cable.  They have recently expanded their capabilities and expertise also to provide fiber to selected areas.  Their network, started in Santa Cruz County, now spans the full county, parts of Santa Clara County, and, since 2008, San Louis Obispo County.  Surfnet has steadily upgraded their network performance and reliability to meet growing broadband demands.  Their expansion to fiber enables them to continue providing large underserved areas of Central California with affordable, high-speed Internet services so essential to economic development, education and social benefits of our Region.
###
Sara Isenberg publishes Santa Cruz Tech Beat for the benefit of the extended business and technology community. When she is not volunteering her time for the tech scene, Sara makes her living by managing software projects, web strategy planning, and providing development team services (including account management, vendor management, strategic partner management, beta project management, referrals to qualified technical team members, and more). Please visit her website: Sara Isenberg Web Consulting & Project Management, or contact Sara by email if you have any project management, account management, or Development Team leadership or service needs.
Tagged Broadband, Central Coast Broadband Consortium, Surfnet