Events
UCSC's DANM MFA Exhibition April 26-27 and May 1-4
by Sara Isenberg
Publisher, Santa Cruz Tech Beat
UCSC's Digital Arts and New Media MFA Program invites  you to UNDERCURRENTS, their annual Master of Fine Arts graduate exhibition.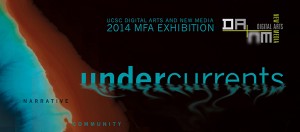 The event will be held April 26-27 and May 1-4, 2014. It is free and open to the public.
Eleven emerging artists push back against prevailing ideas and definitions of digital art. Undercurrents of information and meaning run through the exhibition, connecting themes of conservation, activism, and representation through repurposed technology, telematic performances, video installations, playable media, electronic sculpture, and interactive experiences.
This exhibition is curated by UCSC Sesnon Gallery Director Shelby Graham, and features work by the following artists: Lisa Banks,  Gene A Felice II, Holly Findlater,  Harris David Harris, Matthew Jamieson,  Phil Ly,  Stacey Mason,  John Mawhorter,  Jonathan Menendez,  David W. Moody, Danielle Williamson
Don't miss the opening reception on Thursday, May 1, 6-9pm, where you're invited to interact with ecosystems, drink tea and participate in digital storytelling. Experience and participate in the latest digital technologies and experimental performance. Play unpredictable games highlighting UCSC's award-winning gaming program. All of the artists will be on hand to discuss their work and give tours of the exhibition in the state-of-the-art Digital Arts Research Center (DARC) throughout the exhibition.
Learn more
For more information, including overview of activities, gallery hours, artist bios, and parking information, visit danm.ucsc.edu/mfa14.
About DANM
The Digital Arts and New Media MFA Program (DANM) at UC Santa Cruz serves as a center for the development and study of digital media and the cultures they have helped create.
Faculty and students are drawn from a variety of backgrounds such as the arts, computer science, the humanities, the sciences, and the social sciences to pursue interdisciplinary artistic and scholarly research and production, in the context of a broad examination of digital arts and cultures.
The MFA is a terminal degree in the arts and qualifies graduates for a variety of career paths including university-level teaching and research. Two years of intensive study culminate in the development of individual thesis papers and projects, which premiere in an annual MFA exhibition.
###
Sara Isenberg publishes Santa Cruz Tech Beat for the benefit of the extended business and technology community. When she is not volunteering her time for the tech scene, Sara makes her living by managing software projects, web strategy planning, and providing development team services (including account management, vendor management, strategic partner management, beta project management, referrals to qualified technical team members, and more). Please visit her website: Sara Isenberg Web Consulting & Project Management, or contact Sara by email if you have any project management, account management, or Development Team leadership or service needs.
Tagged DANM, UCSC DANM MFA Exhibition