Companies
Monterey Conference Center and Immersive Design Studios Debut State-of-the-Art Studio Space for Virtual and Hybrid Events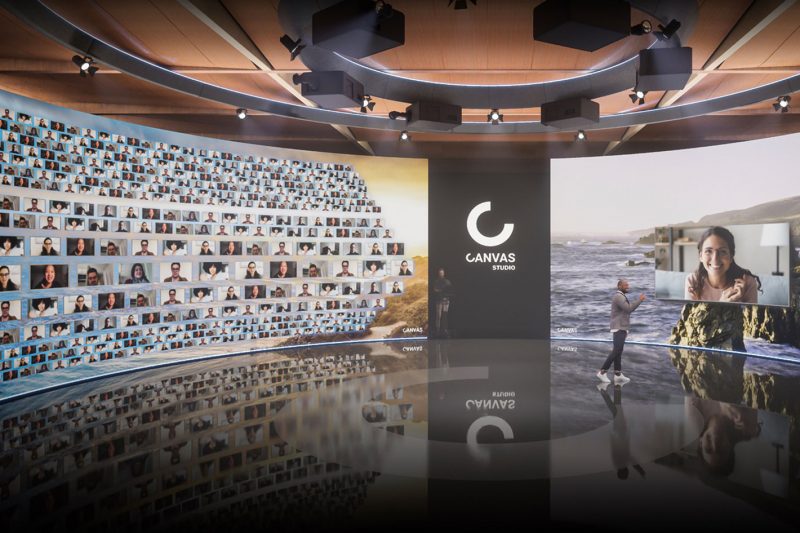 (Business Wire)
May 19, 2021 — Monterey, CA
The Monterey Conference Center and Immersive Design Studios has announced a new 10,000-square-foot CANVAS Studio at Monterey, a state-of-the-art space available for virtual or hybrid meetings and events. The Studio will open in June, abiding by all local safety protocols.
The CANVAS Studio at Monterey sets a new standard for professional events, providing an immersive and engaging environment for speakers and attendees alike. Located on the second floor of the Monterey Conference Center within the Steinbeck Ballroom, the Studio is equipped with 360-degree wraparound screens and Immersive Design Studios' CANVAS software platform. Meeting and event speakers can see thousands of remote attendees up on the screens at once, with the flexibility to zoom in on any individual on the fly for spontaneous and authentic interactions. Attendees feel immersed in the crowd from anywhere in the world. Everyone benefits from the two-way interactivity and dynamic energy that simply can't be replicated in a traditional livestream.
Studio users can reach vastly larger audiences and new markets around the globe at a fraction of the resources it takes to organize a physical event. The Studio can also enable hybrid events: up to 80 guests can fit comfortably inside the studio space to attend in person, with thousands more tuning in virtually.
For the first time, business leaders, performers, and others can safely and cost-effectively reach their audiences without compromising on the quality and communal energy of an in-person event.
"We're thrilled to be opening this innovative and high-end studio space to enable our clients to expand their reach and augment their revenue streams," said Doug Phillips, general manager of the Monterey Conference Center. "This past year we have creatively developed solutions to better serve the industry in a post-COVID world, and we believe that offering a blend of hybrid and virtual events well into the future is an excellent way to ensure that meeting planners have flexible and cost-effective options for whatever circumstances may arise."
"Over the past year we've seen the potential of CANVAS-powered studio spaces to transform how business leaders and entertainers can connect with their audiences, while maintaining both the authenticity and the production value of a physical event," shared Kora Van den Bulcke, co-founder and president of Immersive Design Studios. "We are excited to bring CANVAS to the Monterey Conference Center, based in a destination where innovative ideas flourish."
For more information about the CANVAS Studio at Monterey and to book a meeting or event, visit MontereyConferenceCenter.com.
About Monterey Conference Center
Monterey Conference Center is located in the heart of downtown Monterey, California and is the focal point for welcoming and encouraging cultural and economic prosperity for the breathtaking coastal city. By providing a modern, state-of-the-art meeting facility combined with award winning service and professionalism, the Conference Center goes beyond the expectations of its guests and provides them with a transformative experience unsurpassed in the industry.
About Immersive Design Studios
Immersive Design Studios is a leading technology company whose enterprise-grade CANVAS software platform is powering next-generation interactive experiences for the entertainment, corporate, and education markets. CANVAS is dynamically reimagining how enterprise clients can achieve two-way interactivity with their audiences through both physical and virtual spaces, at unprecedented scale. Based in Montreal and serving an international clientele, Immersive Design Studios is setting the standard for virtual and hybrid events.
###
Tagged CANVAS Studio at Monterey, Monterey Conference Center