Companies
SupplyShift Summit '20: A Virtual Supply Chain Transparency Gathering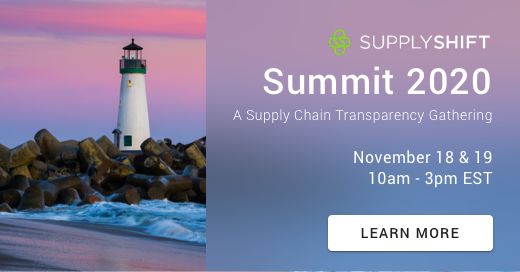 (Contributed)
October 20, 2020 — Santa Cruz, CA
SupplyShift is hosting a two day virtual event full of discussions, workshops, and networking with some of the brightest minds in sustainability and procurement.
This year has brought new challenges for every business, and sustainability, procurement, and supply chain teams have had to become extremely adaptable to keep up with the ever-changing environment. Now, as we continue the transition into a post-pandemic world, these teams face the critical task of building a more sustainable, equitable, and resilient future for business.
SupplyShift's 2020 Summit November 18-19, 2020, is a two-day virtual gathering on the strategies and innovations shaping the future of responsible supply chains. Join some of the brightest minds in sustainability, procurement, and other business functions as they share insights on the road to recovery and beyond.
Why attend?
PEER SHARING – Learn from others who are leading the charge in responsible supply chain innovation.
ACTIONABLE INSIGHTS – Take away ideas that will help you get results in your sustainability journey.
IMPACT – Discover strategies to lead your organization in achieving corporate sustainability commitments.
Speakers include:
Thomas Udesen, Chief Procurement Officer, Bayer
Shannon Hess, Associate Director Responsible Sourcing, Clorox/Burt's Bees
Cesare Guarini, Director of Procurement Sustainability, Philip Morris International
Sarah Smith, Senior Manager, Global Sustainability, Kellogg's
Phil Foti, Director of Product Strategy and Innovation, Coupa
Sara Allan, Senior Sustainability Analyst, General Mills
Donna Westerman, CEO, Sustainable Purchasing Leadership Council (SPLC)
Lisa Boulton, Portfolio Controller, Nestle
Tony Roy, Risk, Policy, and Sustainability, BT Group
Euan Murray, Chief Executive, The Sustainability Consortium
Brad Chatterley, Director of Oil Sourcing, Young Living
… and more TBA.
Learn more and register here.
###
Tagged Supply chain, SupplyShift