Events
Pitch Your Company to Investors at the 2020 Startup Investment & Community Capital Expo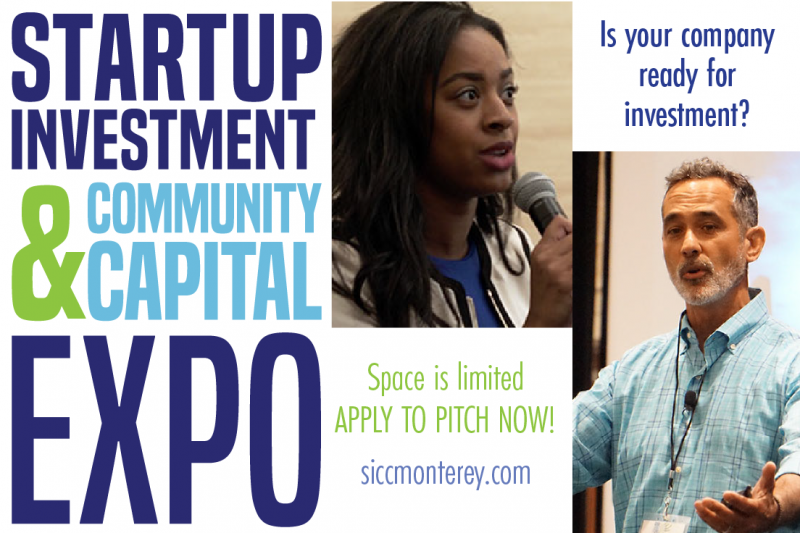 (Contributed)
July 22, 2020 — Monterey, CA
This year's theme combines the two major social concerns of the day: inclusivity and recovery
SICC 2020: Recovery and Reinvention: Inclusive Pathways to Capital
September 28-30, 2020, Online
Looking to get in front of potential investors? Now is the time to apply to pitch at the 2020 Startup Investment and Community Capital Expo (SICC).
SICC is the region's premier startup investment conference, where the region's fastest-growing companies meet with top-tier investors and alternative sources of funding. The themes for this year's Expo are Recovery and Inclusiveness, two major themes of the day. The keynote speaker will be Guy Kawasaki, famed author and product evangelist and currently Evangelist for Canva.
The 2020 SICC presents a unique opportunity to pitch and network with angel and venture capital investors, impact investors, community capital investors, regional banks, and sources of alternative financing. The SICC welcomes scalable ventures looking for seed through Series A financing, as well as smaller businesses looking for impact investors and alternative financing options.
This year's conference will be held online over three days (September 28-30, 2020) and will include both live pitches in front of investor panels, and keynote speakers addressing the two major social concerns of the day: inclusivity and recovery. The changes wrought by the COVID emergency provide the opportunity to re-examine our entrepreneurial system and for a reinvention of businesses and of the funding process around inclusion.
Companies will pitch live via online remote to a panel of accredited investors and to other investors attending the Expo. Each company will have a dedicated website page for their company on the event website (siccmonterey.com) for all SICC attendees to see, access to training and coaching to prepare a killer presentation, and exposure to all attending investors and other attendees of the conference. Apply now to be one of the limited number of featured companies pitching. Once you are accepted to pitch we will begin publicizing your company on our public-facing website and on the conference site.  
Applications will be reviewed and accepted on a rolling basis. Space is limited so apply now at siccmonterey.com.
###
Tagged CSUMB, IIED, Startup Investment and Community Capital Expo