Companies
Q&A: Why this local bank CEO cares about local tech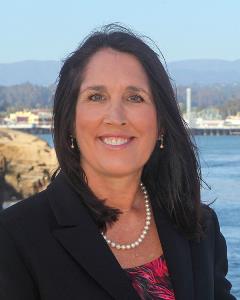 By Sara Isenberg
Founder, Publisher, Editor-in-Chief
Santa Cruz Tech Beat
June 18, 2019 — Santa Cruz, CA
"I really thought this was it – I'm not going to make it. I went from living in an idyllic beach town to a disaster zone in the matter of seconds."
I first became a Bay Federal Credit Union (aka "Bay Fed") member in 1981 because, as a UCSC student, it was convenient. Bay Fed has been my primary place of banking since then, and I even have my mortgage through Bay Fed. Years ago, a physical trip to the bank was required for any transaction. Later, I cashed checks remotely by sending them to Bay Fed by US Mail. Later, I transitioned to depositing checks by visiting the ATM. Now, I deposit checks via Bay Fed's phone app. No muss, no fuss. Love it.
Carrie Birkhofer has been with Bay Fed for 30 years, and has served as the President and CEO since 1995. She arrived in Santa Cruz just a few months before the '89 earthquake.
SCTB: What was that like to arrive in Santa Cruz right before the earthquake?
CB: I moved to Santa Cruz, moving away from my  hometown in Southern California, in August 1989. I started working at BayFed as the CFO in Scotts Valley (now the home of Santa Cruz County Bank). I was only there for about 8 weeks when, on October 17, 1989 at 5:04pm, the ground suddenly severely shook and I was knocked to the floor and buried by ceiling tiles and insulation. I really thought this was it – I'm not going to make it. I went from living in an idyllic beach town to a disaster zone in the matter of seconds. Fortunately no one at the credit union was hurt and we re-opened two days later and handed out emergency cash loans to anyone who needed one. Sadly, I had not spent much time downtown in Santa Cruz so my first memories of it are of the devastation. I remember bricks dangling precariously from tops of buildings among the wreckage affecting almost every building. At first I wanted to leave but I am so thankful I stayed and witnessed local visionaries working together to rebuild and create the dynamic city we have today.
 
SCTB: How has Bay Fed changed/grown/expanded since the early '80's?
CB: In the 80s, we were primarily offering basic financial services only to people affiliated with schools in Santa Cruz. We had a mainframe computer and dumb terminals and only one PC in 1989. We expanded our charter and now we serve anyone who lives, works, goes to school or volunteers in Santa Cruz, Monterey, and San Benito Counties. We offer many services that banks offer yet our main difference is that the members are the owners of the credit union, not a separate group of stockholders. Throughout the years, we relocated all of our branches to convenient shopping centers and we invested in technology so members can open accounts, borrow money and manage their finances over the internet and through our mobile app. We have grown from about $100 million in assets to over $1 billion in assets.  I believe our growth is attributable to our brand promise of helping local people achieve their financial dreams by employees who love serving and giving back to the community.
SCTB: As President and CEO, what's your main interest in the regional tech business/ecosystem?
CB: I am fascinated by the changes in technology I have witnessed in my career. And it's amazing to have a front seat view to many of the developments right here in our region. Bay Federal continuously adopts new technology once we can clearly define the business impact and effectiveness of the investment. We have an innovative mindset and we love exploring the vast new ideas coming out of the regional FinTech sector and watching how they emerge in the marketplace.
SCTB: Have you seen the connection between local tech and Bay Fed change over the years?
CB: A few years back, a group of community members spent time together discussing the importance of attracting technology companies and startups to our region to increase our region's vitality. Having a strong local ecosystem keeps communities strong. And this has a direct effect on BayFed since we reflect the financial status of the individuals and small businesses who live and work in our community.
SCTB: I typically don't hear about all the ways SCTB has helped readers make connections but, apparently, you've had a few that came from reading SCTB's weekly email digest. Do tell! 
CB: Three examples: (1) Through your weekly email digest, I learned about Santa Cruz New Tech meetups and I attended several meetings where network opportunities led to new connections. At one of the events, a board member for the nonprofit FoodWhat? introduced me to the executive director which led to BayFed becoming a sponsor. (2) Through your weekly digest, I learned about a local FinTech start up, Edge Smart Card. I reached out to founder Peter Garrett and we had several meetups to learn more from each other. (3) I love staying on top of the cool new things that are happening in our community, especially the great work that is happening at UCSC. After reading the weekly digest, the information I learn about, such as the discoveries made by the local astronomers, makes great dinner conversation.
 
SCTB: What would you like the business/tech ecosystem to know most about Bay Fed?
CB: We believe it's important to keep your individual and business accounts local to support our communities. The multiplier effect of money staying local keeps communities strong. Give us a try!
SCTB: Last thoughts?

CB: Thanks for all you do in creating this great network!
###