Companies
Aeroasis Launching from Startup Sandbox to Become Independent Company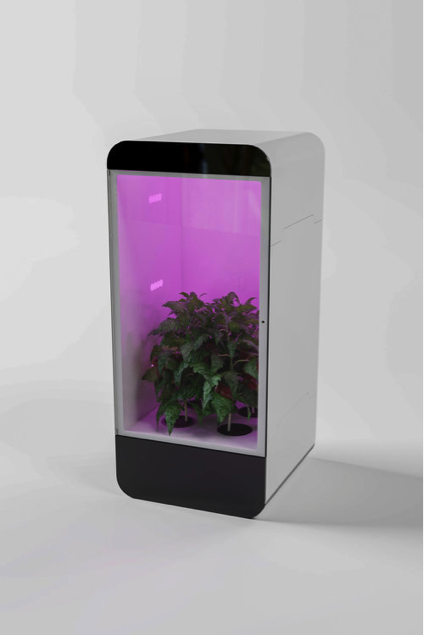 (Contributed)
May 9, 2019 — Santa Cruz, CA
(Photo above: The Oasis is an office refrigerator-sized compartment that can grow food in almost any indoor setting. Contributed)
Innovative agtech startup is revolutionizing the way we grow food for personal consumption
Founded in 2015 by Thomas Wollenberger, Aeroasis has evolved at Santa Cruz's Startup Sandbox biotech incubator as a ground-breaking food growing consumer product. After a year of developing at Startup Sandbox, Aeroasis has grown to such an extent that they now need their own dedicated space which will be based on Soquel Drive in Santa Cruz.
For the last six years, Wollenberger, who is also Aeroasis's CEO, has been creating Aeroasis with R&D capabilities that are at the forefront of the hydroponic smart gardening movement. The company's mission is to empower people to independently grow their own food using the Oasis, an office refrigerator-sized compartment that can grow food in almost any indoor setting.
"I originally thought of this idea in Florida, where I'm from and was working," said Wollenberger. "But, when it came time to fully develop it, I knew that Startup Sandbox was the only place where I could do this successfully. Their facility and sponsorship have been instrumental in us getting Aeroasis off to such an outstanding start. And now I love living in Santa Cruz and want to contribute to the community by locating the company here."
Wollenberger has already hired ten employees and has expansive distribution plans in the works.
The Oasis offers multiple ways to grow food year-round plus a companion Grow App which controls all aspects of the plant growth, resulting in 90% less water usage, three times faster plant growth, and over 26 harvests per year. The Oasis automates the entire growing process from temperature to acidity levels so that owners can enjoy a full indoor garden right at home, or in any indoor environment.
The unit, which can be ordered directly online, is 16'x16"x34", fully automated and climate controlled, has a built-in camera for remote viewing, and can accommodate at least 2-feet of growth per plant.
Aeroasis is having a private opening on May 17 at their new Santa Cruz headquarters which will be streamed online to the pubic. For more information about Aeroasis please visit: www.aeroasis.com.
###