Companies
Doug Erickson takes helm of Santa Cruz Works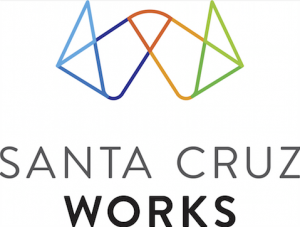 (Contributed)
May 1, 2019 — Santa Cruz, CA
Doug Erickson, founder of the Santa Cruz New Tech MeetUp, has taken the helm as Executive Director of Santa Cruz Works, an organization that launched in 2014 to promote jobs, networking, and learning for the Santa Cruz tech ecosystem. The two companies will functionally merge to become an umbrella organization serving businesses throughout the Santa Cruz County. Santa Cruz Works connects strategic partners from education, government, coworking & accelerators, businesses, venture capital, and other job-growth organizations.
"We are excited and looking forward to Doug's leadership, energy, and expertise," said Bob Cagle, CEO of productOps and co-founder of Santa Cruz Works. "We have seen his ability and passion to make our community thrive by bringing professional leadership and tangible benefits to our members and partners."
Erickson has 30 years experience of executive positions at WebEx, Cisco, SugarCRM, and recently Nanigans. He is also the co-founder and board president of CruzHacks, the largest hackathon on the central coast. His monthly event Santa Cruz New Tech has more than 4,300 active members, with monthly events topping as much as 500 attendees.
"I am very excited to join the Santa Cruz Works team," said Erickson. "Our local companies and organizations have contributed globally to sectors including business intelligence, biotech, transportation, and agriculture. We have helped expand the reach of local businesses like Joby Aviation , Merge4 , O'Neill Sea Odyssey , Inboard Technologies , Wynn Capital Management , and many more. On May 1, at Ubertrends, we will announce and launch a new series of programs, events, and clinics to grow entrepreneurship, local businesses, and jobs in Santa Cruz county."
"Erickson's commitment to the Santa Cruz community and his experience as an entrepreneur will be an incredible asset to Santa Cruz Works," said Bud Colligan, Founder and CEO of South Swell Ventures, and Senior Advisor for International Affairs and Trade to Governor Newsom.
"The joining of forces of Santa Cruz Works and Santa Cruz New Tech is a powerful engine for success," said Peggy Dolgenos, president of Cruzio Internet. "The combined entity recognizes that Santa Cruz has a unique place in the international tech scene: we're highly innovative, but in a community-oriented way."
Among the first projects of the combined group is a new website and resource center: Santa Cruz Works. Strategic partnerships have been created to give members and partners a number of tools for success from companies Amazon, Hubspot, Monterey Bay Economic Partnership, and gigabit fiber from Cruzio.
Upcoming events include Ubertrends with Michael Tchong May 1 and the 3rd Annual Get Hired on June 5, 2019, with 10+ local companies offering as many as 300 jobs. A full events calendar can be found at Santa Cruz Works.
Partner companies and advisors include: Amazon, Buoy, Central Coast Angels, City of Santa Cruz Economic Development, CruzFoam, Cruzio, Digital NEST, Inboard Technologies, Joby Aviation, Looker, Monterey Bay Economic Partnership, NextSpace, Poly, productOps, Richter Law Offices, Santa Cruz County Bank, Santa Cruz County Business Council, Santa Cruz Tech Beat, South Swell Ventures, Startup Sandbox, UCSC, Wynn Capital Management.
###