Companies
What does patent activity in the Monterey Bay area look like?

By Larry Cady
Senior Analyst, IFI Claims Patent Services
February 19, 2019 — Monterey Bay
Silicon Valley companies like Intel, Apple and Google are leading patent recipients as tracked by the IFI CLAIMS Patent Services Annual Patent Ranking for 2018. These three companies combined for 6,965 US patent grants in 2018.
What does patent activity in the Monterey Bay area look like?
I looked at the numbers. Specifically, I look at patents granted to companies (patent owners or "assignees") with addresses in Santa Cruz, San Benito and Monterey Counties. I do not include companies not based in the region. So, while local inventors do make major contributions to Amazon and many companies in Silicon Valley, I do not count them here.
Overall Trend
Here is the overall trend. The dark line shows all local patent grants from 2001 to 2018. It shows a steep decline. However, much of that decline is due to Seagate—which moved from Scotts Valley to Cupertino. The red line excludes Seagate and it shows a slow steady increase. There was a slight decline in 2018, but this occurred nationwide, and the decline is probably temporary. Either way, the overall numbers are much smaller than those seen in Silicon Valley but the trend is positive.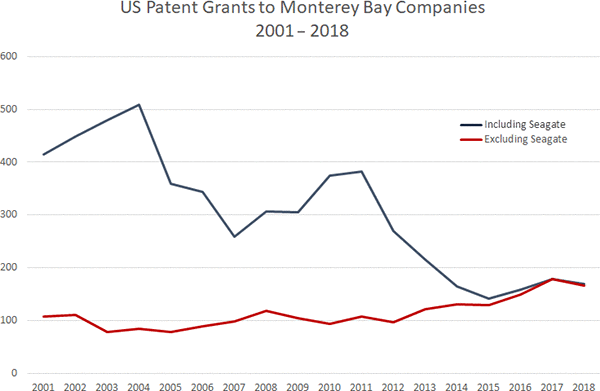 Companies
Which local companies received the most patents in 2018? Here are the top 12: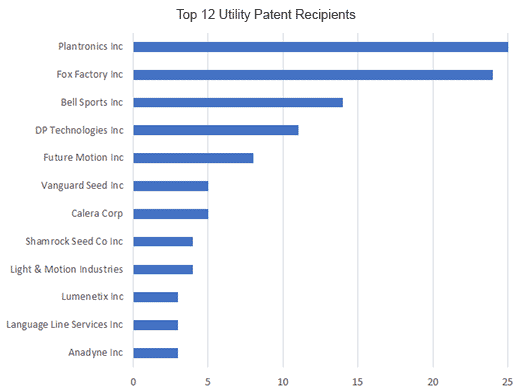 Continue reading here: https://www.ificlaims.com/news/view/blog-posts/patent-activity-in-the.htm
Capitola resident Larry Cady is not a patent attorney but does have over 20 years experience working with an analyzing patent data and trends.
###
Tagged Patents