Companies
PitchHub: A startup at the intersection of streaming video and commerce
By Andrew Devlin
PitchHub Co-Founder
Special to Santa Cruz Tech Beat
January 8, 2019 — Santa Cruz, CA
Three months ago, PitchHub's introduction would have read like this: PitchHub's goal is to help save people and businesses time and money. It enables companies to hire more efficiently, communicate more effectively, and improve the overall procurement process of products and services, with the belief that its easy-to-use video-based platform and applications will transform the world.
As 2019 drew near, the message became a bit more urgent: Holy shit, this is hard! With the all-too-keen awareness that executing on an inflexible concrete plan is the reason why 90 percent of all startups fail, as founders we realized that a product better get to market quickly for revenue and eventual funding.
The introduction now reads
PitchHub is a scrappy startup with the promise of enabling companies to sell their products and services more quickly and efficiently, communicate more effectively, and improve the overall customer experience using streaming video. Video Menu (screenshot below) is a standalone product that will eventually be offered as a subset of the PitchHub business video platform.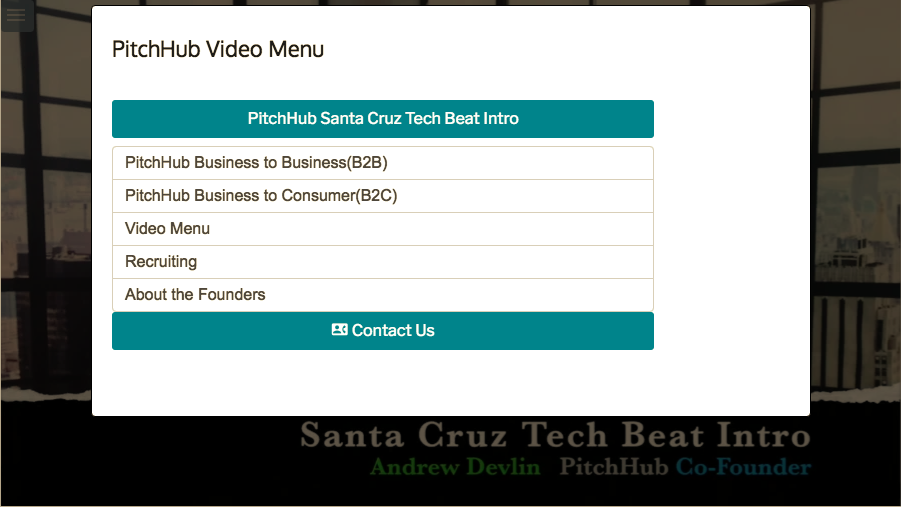 How this startup came to be
The PitchHub concept started when I was researching business solutions from a buyer's perspective and was perplexed by the confusion, diversity, and number of companies from which to choose.
When enterprises start out to buy a product or service, the typical process today is to use analysts, references, RFP's (requests for purchase/proposal), and a plethora of meetings to make an evaluation and eventually a purchase. This formal process is time consuming and demanding for both buyer and sellers, with few alternatives.
I started focusing on a ways to improve the procurement process, so it was less templated, better at relationship building, easier, and more efficient. The idea was to use a video platform for businesses to foster innovation and transparency while giving them a chance to solve the buyer's problem.
Several organizations helped give feedback in the development phase of the company, including Santa Clara University, Stanford University, Seattle Public Schools and Chevron.
Andrew and Benjamin Norton (Co-Founder) met at DeVry University's Electronic Engineering School. Ben worked at Qualcomm developing software for 21 years, and I helped shape the streaming video industry for the past 20 years. Ben left Qualcomm at the end of 2017, in 2018 started PitchHub's software development, by mid-summer, he had a functional prototype ready to go — a video-based RFP platform. We applied for a patent in September on the platform/process and also decided to Trademark (RFV™), now PitchHub is the home of the request for video (RFV™) service.
We developed an MVP 1.0 (Minimal Viable Product) mainly business-to-business (B2B) that went like this: Buyers create a project, highlight their goals/requirements, and request short videos from sellers, asking for specifics such as these:
An introduction to the team that will be dealing with them on a daily basis
Answers to questions about how the solution will meet their needs
A short overview demo of the products or services
Then came the pivot
As soon as the MVP 1.0 framework was ready, we were gung-ho to launch PitchHub from a B2B perspective but kept getting requests and ideas to use their platform as a business-to-consumer (B2C) application. The businesses and universities that helped them develop the platform were getting pushback from other departments, thus delaying the projects.
So, we put the B2C version of PitchHub to the test. My wife and I wanted to "go solar" at our home in Santa Cruz. With jobs and three children (ages 2, 5 and 6 years), family life so busy, we didn't have time to ask several companies to make complex presentations. We asked eight local solar companies to answer a few simple questions on video and figured that several hours was saved by watching the video submissions on our own time, before making a decision. And the solar companies? They each saved at least two hours by foregoing travel and the typical direct sales channel.
Next came the DeBernardo Team and BridgeTek Capital, a new real estate group and a bridge loan company being formed in Santa Cruz. They asked PitchHub to help them simplify the video navigation on their websites and provide more relevant information while still evoking a "call to action."
PitchHub is excited to announce that Santa Cruz's premier small business marketing strategy provider, The Root Group, are partnering to help the local business community with professional video production that incorporates PitchHub's "Video Menu" and "Call to Action" application.
The use cases for video in commerce are immense and we are just scratching surface of what's to come. PitchHub is excited to be starting out in a very exciting market, bringing benefits of our platform to companies and starting right here in Santa Cruz county.
###
Tagged pitchhub
Related Posts