Events
City of Santa Cruz, Cabrillo College SBDC and California Manufacturing Technology Consulting Partnering to Host Manufacturers Meetup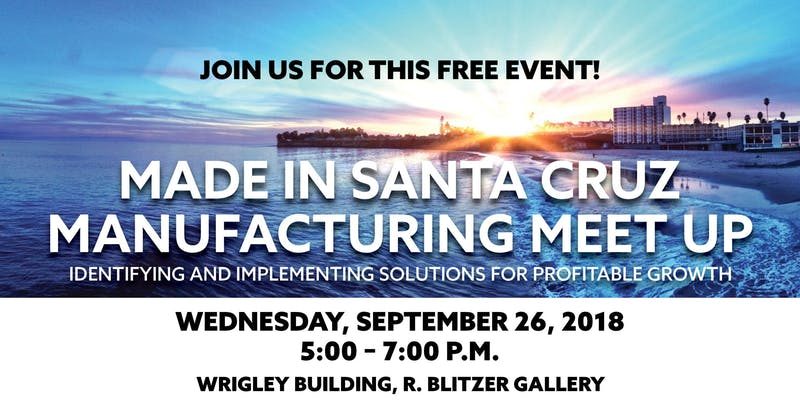 (Contributed)
August 21, 2018 — Santa Cruz, CA
September 26 event is designed to hear from manufacturers and connect them to resources for profitable growth
Made in Santa Cruz Manufacturing Meetup
Wed, Sept 26, 2018, 5-7pm
Wrigley Building, R. Blitzer Gallary, 2801 Mission St, Santa Cruz, CA
The City of Santa Cruz, Santa Cruz Small Business Development Center (SBDC) at Cabrillo College and California Manufacturing Technology Consulting (CMTC cmtc.com) are partnering to host a Meet Up for Small and Medium-Sized Manufacturers (SMMs) in Santa Cruz County to hear from manufacturers and connect them to resources to grow profitably. The free event is offered will be held from 5:00PM to 7:00PM on Wednesday, September 26, 2018, in the R. Blitzer Gallery of the Ow Building/Old Wrigley Building at 2801 Mission Street, Santa Cruz. RSVPs are requested to Kristina Chavez Wyatt at kwyatt@cmtc.com, 831-737-7944, via Facebook, Eventbrite https://scmanufacturingmeetup.eventbrite.com and on Meetup.
The event is targeting manufacturers in Santa Cruz county. Additional resources and information will be provided by the California Employment Training Panel (ETP), local and regional business service providers. Community promotional partners for the event include – Santa Cruz County Economic Development and Workforce Development, Santa Cruz County Business Council, Pajaro Valley, Capitola and Santa Cruz Chambers of Commerce, Monterey Bay Procurement Technical Assistance Center, University of California Santa Cruz Entrepreneurship Center, Santa Cruz Works, the cities of Watsonville, Capitola and Scotts Valley, Monterey Bay Economic Partnership, El Pajaro CDC, and our generous facility host, Ow Family Properties.
CMTC is affiliated with the National Institute of Standards and Technology and is part of the Hollings Manufacturing Extension Partnership National Network of the US Department of Commerce for the State of California. Following 28 years of success in Southern California, CMTC is leading the expansion of "California's Manufacturing Network" to serve SMMs statewide. The aim is to develop and deploy technology, management and technical expertise for SMMs focused on improving their productivity and global competitiveness. As a non-profit organization, CMTC's mission is to serve as a trusted advisor to manufacturers providing solutions which will grow both their businesses and the California economy.
CMTC provides a full range of consulting services that can help transform your organization into an innovative, high performing, market driven and cost-effective operation, including:
Identifying and Implementing Solutions to Remove Barriers to Growth
Increasing Productivity & Sales
Reducing Costs
Improving Quality & Competitiveness
Developing a Skilled Workforce for the Future
Leveraging Technology & Innovation
Creating an Agile Supply Chain
Ensuring Continuous Improvement & Strategic Growth
Leveraging Networks, Incentives and Funding
###
Tagged Manufacturing