Companies
Using Social Media to Predict Social Unrest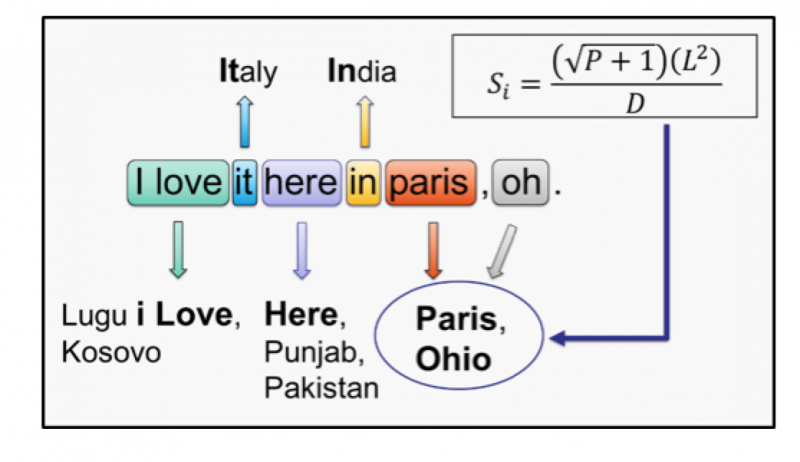 By Natalie Goldsmith
Naval Postgraduate School Foundation
Special to Santa Cruz Tech Beat
May 1, 2018 — Monterey, CA
(Image above: Geospatial Semantic Parsing of Social Media Texts. Contributed.)
Three Researchers' Novel Approach to Assessing Warning Signs in the Cyber Domain
The recent rise of cyber attacks and emphasis on cybersecurity across industries reflect a deeper shift in modern-day warfare: much of it is taking place in the cyber domain. This complex battlespace is characterized by new forms of networked actors, radicalized clusters of individuals and diverse channels of social and political communication, like Facebook and Twitter. But the U.S. Navy, and military in general, still lack necessary tools to comprehensively assess and identify threats within the cyber domain.
So thanks to the NPS Foundation Seed Program, three researchers at the Naval Postgraduate School in Monterey, CA are doing something about it.
"Our research starts with the collection and geo-location of globally sourced online social media and mass media messages," says Dr. T. Camber Warren, lead researcher and NPS professor. "To date, we've gathered more than 13 billion documents across more than 200 countries and 100 languages. With these sources, we aim to conduct a cross-lingual analysis in order to generate systematic spatio-temporal maps of global communication patterns. This makes it possible to predict the emergence of collective violence."
How exactly? Well, these spatio-temporal maps provide the input for their second stage of analysis, which utilizes artificial neural network algorithms to learn key features of the data to predict likely locations of emergent threats to human security. By developing new algorithms and hybrid computational architectures, this research team is creating neural network models that can automatically learn normal patterns of discourse in a spatial region, even as communication patterns dynamically evolve. By detecting sudden, radicalized deviations from these normal communication patterns, such models can then be used to identify early warnings signs of unrest and fear on complex human landscapes.
Dr. Warren explains, "Because such models can learn updated patterns as new forms of rhetoric and slang emerge, they can provide warning signals even in regions where human knowledge of recent shifts in local dialects may be lacking."
And with continued funding, they can provide military commanders and the entire community of defense researchers with new tools to enhance situational awareness and security.
"We can demonstrate that our analytics are directly reflective of ground truth, and provide a fully operational software system for dynamic situational awareness in the human domain, empirically verified social sensing, and prediction of emergent threats at global scales," says Dr. Warren.
The impact of this research is three-fold:
Dynamic Situational Awareness: New computational architectures make it possible to directly measure the collective emotional states of human societies, to track changes in mobilization and radicalization as they occur, and to predict the emergence of violent conflict.
Measures of Impact for Information Operations: By generating real-time, data-driven assessments of the subjective impacts of information operations conducted by both friendly and hostile forces, this approach enables systematic evaluation of the conditions under which narratives resonate with different communities.
Automated Detection of Emerging Influence Campaigns: Novel approaches to machine learning through artificial neural network algorithms make it possible to detect unforeseen anomalous patterns in human discourse at global scales, and provide automated categorization of efforts directed towards sentiment manipulation.
The Seed Program is continuing to fuel more innovative research each year, and there are more projects seeking full funding. To learn more, visit npsfoundation.org/defense-innovation-fund.
The Research Team
T. Camber Warren, Professor, NPS, Department of Defense Analysis
Jesse Hammond, Professor, NPS, Department of Defense Analysis
Albert Barreto, Professor, NPS, Department of Information Sciences; Director, NPS Virtualization and Cloud Computing Lab
ABOUT THE NPS FOUNDATION SEED PROGRAM
The Seed Program exists to provide initial capital for research that improves national security and war-fighting capabilities through a competitive, venture capitalist funding model:
Phase One: Open call for research proposals
Phase Two: Selected projects receive $10,000 each to develop a detailed plan
Phase Three: Selected projects receive full funding to complete research
Fusing venture capitalist business practices with government programs may seem like an unlikely match — for good reason. The Defense Innovation Fund's Seed Program is the first of its kind. Started in 2016, the program allows NPS students to partner with professors to turn ideas into action. These ideas often originate from deployments and boots-on-the-ground experience that only military members possess. With these students' unique perspectives, the research that develops from this program has immediate impact in the Department of Defense.
ABOUT THE NAVAL POSTGRADUATE SCHOOL FOUNDATION
Founded in 1970, the Naval Postgraduate School Foundation supports the Naval Postgraduate School (NPS) by raising and disbursing private funds to provide a margin of excellence to the university. The Foundation's support takes many forms, including student and faculty awards for excellence, recreational clubs, institutional advancement, and funding innovation defense research. The NPS Foundation is responsible for facilitating community involvement to bridge the divide between the local Monterey community and the active-duty military community at the Naval Postgraduate School. For more information, visit www.npsfoundation.org.
###
If you wish to republish this article, please follow our Terms of Use.
###