Companies
Reducing "range anxiety": Evaline offers solution for shared electric vehicle charging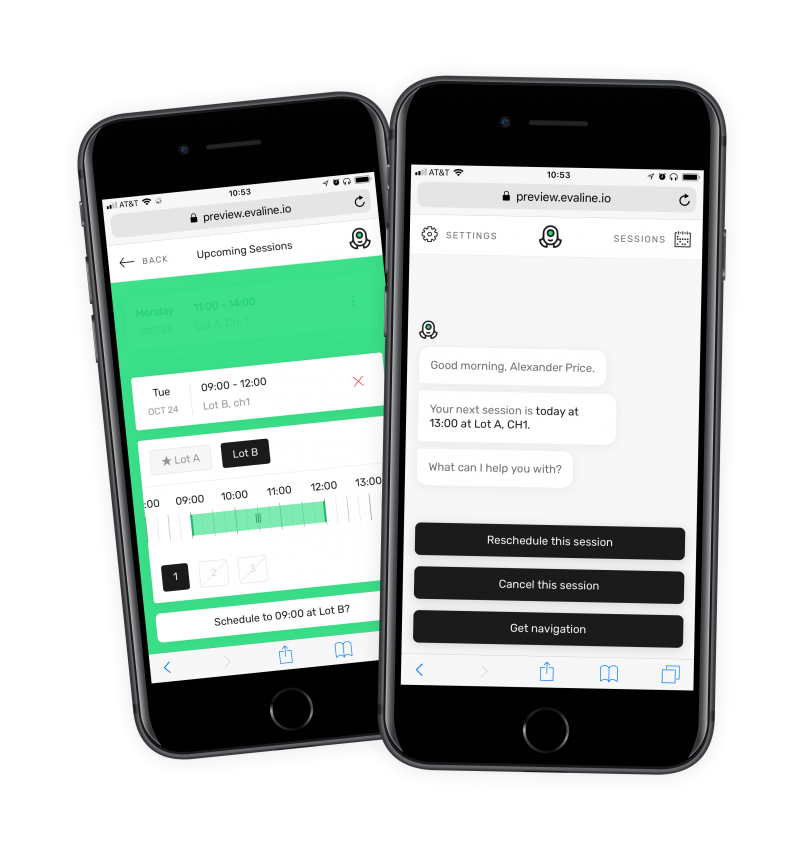 By Craig Ritchie
Director of Marketing, Evaline
December 12, 2017 — Santa Cruz, CA
(Image above: The Evaline Scheduler compares individual employees' schedules in their work calendar to EV charger availability at their workplace and plans out a schedule for each employee the week ahead. Contributed)
What if you pulled up to a gas pump and had no idea if you'd be waiting 5 minutes or 5 hours before a pump became available? What about at shared EV chargers?
Imagine arriving at a gas station and seeing a car at every pump – this is not much of a problem as filling up only takes a couple of minutes, and you can be guaranteed a station will open up soon. But what if you pulled up and had no idea if you'd be waiting 5 minutes or 5 hours before a pump became available? This is the problem faced every day by drivers using shared EV chargers, as many simply park their car, leaving it plugged in for many more hours than is needed.
My long-time friend and business partner, Jethro Naude, experienced this issue first hand while he was working at Tesla Motors, one of many Californian workplaces offering free EV charging to its employees, and felt there had to be a better way to manage shared EV chargers.
We need a solution to shared charging
It was November 2015 and while away on business in Iceland, I received a call from Jethro that would lay the foundations for us working together on a solution to shared charging.
"There's simply no management of this at all," Jethro told me, "and we're seeing situations of people experiencing charger rage as they simply have nowhere to plug in their EVs, even though the already plugged in cars were fully charged hours ago!"
He described how his wife was encountering the same issues at St Jude Medical, where they had tried everything from a shared Google sheet to allocating days per driver, and hoping that simply being a good neighbor would solve the problem.
Evaline Scheduler
It didn't, and after lengthy calls in the dark of the Icelandic winter, the idea for Evaline Scheduler was born. In brief, our solution compares individual employees' schedules in their work calendar to EV charger availability at their workplace and plans out a schedule for each employee the week ahead.
We looked at a number of possibilities such as a ticketing system, individual reservations, and so on – before we decided to just automate the entire process. The solution allocates enough time to more than cover every employee's daily commute, and then some, and automatically notifies them when it's time to charge, and when they need to move their car afterwards.
In mid-2016 we started building out the brand with freelance designers hired online – this was all before we embarked on a capital raise – and our next major milestone came at the start of 2017 when we developed the prototype that was ready for a pilot program.
Thankfully we established a good relationship with a California-based EV charger manufacturer, and ran a live beta test for a few months. This proved incredibly useful for us, and the feedback – both what worked and of course constructive criticism about what could be improved – was implemented rapidly thanks to our team.
Planning the full launch
We are now building improvements and additional features with plans for full launch of Evaline Scheduler in Q1 of 2018. At the same time, we're also planning and prototyping a public charging application which offers features currently not available by the competition, although I'm going to keep the details of that under wraps for now!
We see the electric vehicle as the silver bullet for mankind which could solve two of the world's most significant problems. By changing the car we drive we can mitigate both global warming and our dependence on oil. At present, range anxiety, next to price, is one of the leading obstacles to the mass adoption of the EV. By improving the overall shared charging experience, both in the public and in the workplace and by bolstering driver confidence we can help decrease the range and charging concerns of motorists.
SC Accelerates has gotten behind our small Santa Cruz startup, and is helping us attract the funding needed for a larger scale launch next year. If you're interested in learning more, you can reach out to Jethro on jethro@evaline.io. The company is currently hiring, so there are opportunities going right now for the right talent to join our growing team.
###
If you wish to republish this article, please follow our Terms of Use.
###
Tagged Evaline