Companies
UCSC initiated fiber-optic project brings high-speed broadband to Central Coast communities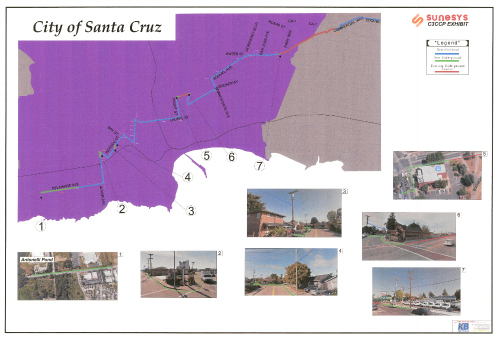 By Guy Lasnier
UC Santa Cruz
September 14, 2017 — Santa Cruz, CA
(Image above: Illustration submitted as part of a grant application for funding from the California Public Utilities Commission shows the plan for how fiber-optic cables are installed from the west side of Santa Cruz headed south, eventually reaching Soledad. Installation includes above ground on utility poles and below ground using existing and new conduit. Illustration from Sunesys.)
Installation is complete on a 91-mile fiber optic cable made possible by UC Santa Cruz that will bring reliable, speedy internet broadband to underserved communities across 430 square miles from Watsonville through the Salinas Valley to Soledad.
The next steps are to tie local community networks to the high-speed fiber-optic cable. UC Santa Cruz will link its networks, giving it a second connection to the internet backbone to supplement a fiber-optic line from Sunnyvale installed in 2010.
UC Santa Cruz researchers and students use massive amounts of data for work in genomics, astronomy, and big data, among other projects. Data are transmitted on fiber-optic networks via pulses of light, allowing network capacity to increase by factors of 100. The university has been linked to a statewide ultra high-speed network since 2010, but campus information technology planners recognized the vulnerability of having only a single connection coming from the north.
"With the addition of computing and big data as new legs to the foundation of world-­class research, UCSC will need connectivity beyond the bleeding edge for the foreseeable future," said Brad Smith, UC Santa Cruz interim vice chancellor of information technology. "We were able to think creatively to secure funding for a multi-million-dollar project."

"This was a total win-win," said Steve Blum, president of Tellus Venture Associates of Marina, who specializes in developing new community broadband systems. "UCSC got much-needed fiber capacity and, as a result, the Salinas Valley has the same broadband internet that people in Santa Cruz take for granted." Previously, broadband service in the Salinas Valley was "pretty dire," Blum said
The financial key to the project, Smith said, was that the California Public Utilities Commission was looking for proposals to increase broadband access to areas with poor service.
Continue reading article here: https://news.ucsc.edu/2017/09/fiber-project.html
Tagged Broadband, Fiber, UC Santa Cruz