Companies
National Drive Electric Week: 250 events across the Nation including in Santa Cruz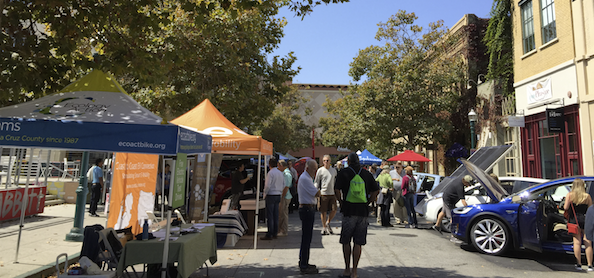 (Contributed)
September 13, 2017 — Santa Cruz, CA
Hundreds attended last Saturday's National Drive Electric Day Monterey Bay, part of National Drive Electric Week featuring over 250 events across the nation this week. Ecology Action, the Monterey Bay Electric Vehicle Alliance and the Electric Auto Association Central Coast Chapter hosted the Santa Cruz event which included 20 electric vehicles, test drives and electric bikes.
"Over the past couple of weeks, there's been hurricanes, wildfires, record heat waves and more ravaging through our country and across the world. Often climate change can feel daunting, too big of an issue for us to tackle or have an impact on.  That's why Ecology Action has been working with partners to host this event over the past several years for Monterey Bay residents because our mission is to help people act now. No lifestyle change is too small to add up to a big impact. From our bike programs to our electric vehicle events, we hope to encourage people to ditch their gas powered car, even if it's just driving one less day a week. As a community, if we can ignite these types of changes we will collectively make a big impact on protecting ourselves and our environment." Emily Gomez, Program Specialist, Ecology Action.
Nothing beats the first-hand experience of individuals getting behind the wheel of an electric vehicle and taking it for a test drive. Event attendees were able to test drive some of the most popular electric vehicles on the market including the Chevy Bolt, 2018 Nissan Leaf and a Tesla S. Local bike shops also featured many different types of electric bike models which attendees were test riding all day.
Electric vehicles have entered the mainstream and with the new vehicles set to hit the market, we can only expect adoption numbers to continue to climb. The next generation Nissan LEAF is slated for release in September; Chrysler just debuted the world's first-ever plug-in electric hybrid minivan; GM's Chevy Bolt EV, the first 238-mile range car under $40,000 will soon be available in all 50 states; Volvo just announced that starting in 2019, all of its new models will be electrified; and thousands are eagerly awaiting the first delivery of Tesla Model 3. The growing convenience of electric vehicles from longer ranges to expanding charging infrastructure coupled with the environmental and financial benefits are causing a steady increase in use. In the U.S., reducing emissions in the energy and transportation sectors could prevent almost 300,000 early deaths caused by air pollution by 2030.
###
Tagged Electric Vehicle