Companies
Economic Development meets Crowdfunding at ComCap17 in Monterey, Sept 10-13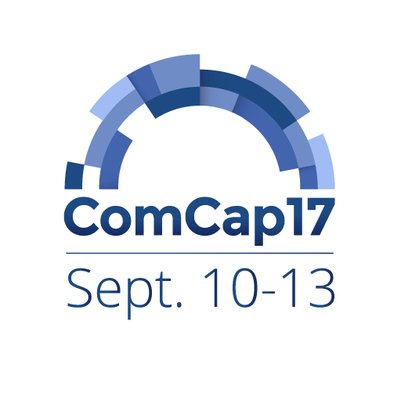 (Contributed)
August 24, 2017 — Monterey, CA
The "ComCap17" conference will be held at independent venues throughout downtown Monterey, California, September 10-13, 2017
The "ComCap17" conference will kick off September 10 in Monterey, featuring local leaders and national experts from the realms of government, banks, nonprofits, higher education, business development, national innovation, federal agencies, food and farming, business, and finance.
Presented by Hatch Innovation and hosted by the City of Monterey, the "ComCap17" conference will be held at independent venues throughout downtown Monterey. Hundreds of national leaders, experts, and attendees are expected for three-and-a-half days of learning, networking, exploration of community capital tools, and strategic planning, while enjoying the beauty and bounty of Monterey, CA.
"This year's program takes a different approach by grounding many of the national topics in the local community as "case studies" to learn from. It's a rare chance to connect with leaders in the ecosystem who are on the cutting edge of community, economic, and business development." —Amy Pearl, Founder and CEO, Hatch Innovation
Session include:
Rebuilding Local Food Economies: Farms to Fisheries
When Money Comes Home – Global Fragility to Local Stability
The Role of Small Business Development Advisors and Economic Development 2.0
Local Investing is the New Impact Investing
The Role of Government and Philanthropy: Public-Private Partnerships
Educating Entrepreneurs: Compliance, Culture, and Capital
How Community Crowdfunding Serves Rural Economies
How Crowdinvesting Can Catalyze Community Projects
The Role of Financial and Legal Professionals: Planners, Advisors, Bankers, Lawyers
Educating the Crowdfunding Generation: Universities Interrupted
Audience:
State Leaders from States with Crowdinvesting Laws (or those working on one)
Community and Economic Development Professionals
Banking and Finance Professionals
Policy Makers, Government Agencies, Decision Makers
The audience for the conference includes entrepreneurs, local investors, and ecosystem builders who are dedicated to revitalizing and empowering local economies across the country. Attendees from over the 35 states that have enacted local investing laws and those that are interested in doing so (including CA) will come together to review how increasing access to community capital for both citizen investors and entrepreneurs leads to stronger, regional economies.ComCap17 sponsors and partners include the City of Monterey, Middlebury Institute of International Studies (MIIS), Monterey Bay Aquarium, Sustainable Economies Law Center (SELC), ReValue Investing, Essential Knowledge for Transition, Slow Money, Locavesting.com, Hatchoregon.com, the National Coalition for Community Capital (NC3), and more.
Register:
ComCap17 registration includes:
Exclusive Kick-Off Reception at the Monterey Museum of Art – Pacific Street
Two full days of keynote presentations and panels, featuring four tracks of concurrent sessions
Special Tuesday evening keynote talk at the Golden State Theater from Woody Tasch, founder of Slow Money (open to the public)
One full day of workshops and learning labs (open to the public)
Suggested "Monterey lunch walks", with recommendations and discounts at local eateries
Founded in Portland, Oregon in 2004, Hatch Innovation enables people to build enterprises that improve communities. www.hatchthefuture.org.
###