Featured
Cancer in the Crosshairs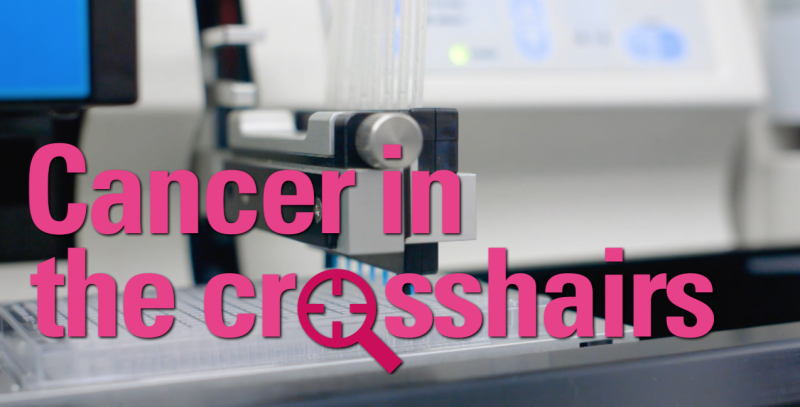 By Tim Stephens
UC Santa Cruz
May 18, 2017 — Santa Cruz, CA
UC Santa Cruz may not have a medical school, but its scientists are tackling some of the most challenging problems in cancer genomics, drug discovery, and basic cancer biology
Scott Lokey is not easily discouraged. In fact, he seems to thrive on scientific challenges, like taking on what the pharmaceutical industry calls "undruggable targets." The term applies to molecules known to play a key role in disease but not susceptible to control by the kinds of small molecules that make good drugs.
Lokey, a professor of chemistry and biochemistry and director of the Chemical Screening Center at UC Santa Cruz, is working with compounds that he thinks could overcome the obstacles presented by "undruggable" targets. If successful, his work could lead to a whole new class of drugs to fight cancer and other diseases.
One such target is the retinoblastoma tumor suppressor protein, which normally puts the brakes on cell division. Its function is disrupted in most human cancers, allowing cancer cells to proliferate.
"The retinoblastoma protein is just the tip of the iceberg. There's a huge inventory of potential targets that we haven't been able to get at with conventional drugs," says Lokey. "I actually get the majority of my funding from pharmaceutical companies for work on undruggable targets."
Taking on challenging drug targets is just one way to make progress against cancer. Researchers at UC Santa Cruz are attacking the disease from every angle. While the Chemical Screening Center searches for new cancer-fighting compounds, biologists are identifying new targets for the next generation of cancer drugs, and genomics experts are harnessing the power of big data to usher in a new era of precision therapies. The campus may not have a medical school, but that doesn't keep its scientists and engineers from working at the cutting edge of biomedical research.
All advances in cancer treatment­—from the development of new therapies and diagnostic tools to the use of genomics to guide treatment decisions—are rooted in understanding the fundamental biology of cancer cells.
Cancer is a disease of the genome, caused by genetic changes that lead to uncontrolled growth and proliferation of tumor cells. Genomic analysis of tumor cells can reveal the genetic errors driving a patient's cancer, but the enormous diversity of genetic abnormalities found in cancer cells makes interpreting the genomic data a huge challenge. Researchers at the UC Santa Cruz Genomics Institute are developing sophisticated computational methods for analyzing genomic data to help doctors choose the most effective drugs for individual patients.
Known as "cancer genomics," it's a powerful approach that builds on decades of ongoing work by biologists to understand exactly how genetic changes drive cancer.
Continue reading article and view more videos here: http://reports.news.ucsc.edu/cancer-research/
###
Tagged genomics, Genomics Institute, UC Santa Cruz