Companies
Q&A: WordStream acquires Algorithmic Ads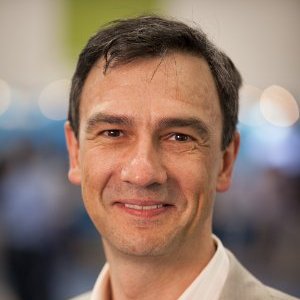 By Sara Isenberg
Founder, Publisher, Editor-in-Chief, Santa Cruz Tech Beat
May 11, 2017 — Santa Cruz, CA
You may recognize John Marshall as the person who designed and built a prosthetic hand for a 12 year old Haitian orphan using 3D technology. That was 2014. Fast forward to 2017. Over the last two years Marshall has startup and sold a local company. Here's the scoop.
SCTB: Over the past 2 years, you've been running a small startup called Algorithmic Ads. What does Algorithmic Ads do?
JM: Online marketing is time consuming for small businesses. Search marketing was a great solution for a while because the ads are easy to create – they're just text. However search is largely tapped out for many SMBs, while new areas like Facebook, re-targeting, video require graphic design skills to design the ad. We solve this by creating great looking graphic ads with algorithms, instead of expensive graphic designers. Our customers have been large ad networks that serve SMB advertisers
SCTB: Who's on your team?
JM: The team is small and virtual. I'm the only person in Santa Cruz.
SCTB: You just sold Algorithmic Ads to WordStream. What's the story?
JM: There was a fair amount of serendipity. WordStream approached us initially about licensing the technology, but after some discussions the possibility of acquisition started to make more sense.
SCTB: What will your role w/ Algorithmic Ads be going forward? Are you letting go completely?
JM: I'm taking on a new role within WordStream which is to champion the rollout of the integrated product.
Here is the announcement from WordStream:
WordStream Inc., a leading provider of online advertising software and services, just announced its first acquisition. The Boston-based company, which has been named to the Inc. 5000 list of fastest-growing private companies for four consecutive years, has acquired Algorithmic Ads, a software provider that helps businesses quickly generate effective display ads based on their existing website imagery. This acquisition supports both WordStream's incredible growth and ongoing mission to make the complex world of online advertising as easy as possible for businesses of all sizes.
Santa Cruz, California-based Algorithmic Ads has developed easy-to-use software that algorithmically selects content, images, color schemes, and calls to action from existing business assets and then dynamically builds great-looking display ads to fit all ad formats on display networks including Google and Facebook.
WordStream will incorporate this technology into its core online advertising platform, WordStream Advisor, enabling customers to quickly and easily build out high-performance display advertising campaigns for both paid search and paid social networks—all without having to hire or outsource to a visual designer. The end goal is for WordStream customers to manage every aspect of their ad campaigns, across platforms, in one simple dashboard that helps them drive better results.
Algorithmic Ads' two co-founders, CEO John Marshall and Chief Technology Officer David Prinzing, will be joining WordStream to help drive its expanding display advertising strategy. "WordStream and Algorithmic Ads both focus on helping businesses execute their advertising at a high level even if they don't have a huge staff or a huge budget," Marshall said. "We're really excited to be joining the WordStream team so that our products can evolve together and better serve that core audience."
"WordStream has seen phenomenal growth over the past several years, and I'm thrilled that we're now in a position to accelerate our pace of growth even further through acquisitions like this," said Ralph Folz, CEO of WordStream. "We're just getting started."
About WordStream
WordStream, Inc. provides software and services that help marketers get the maximum results from their online marketing efforts. WordStream's easy-to-use software allows for more effective paid search and social campaigns with the 20-Minute Work Week, a customized workflow that guides marketers through steps that can greatly improve their AdWords, Bing, and Facebook campaigns, plus tools for call tracking, keyword optimization, and more. WordStream also offers an award-winning free PPC tool, the AdWords Performance Grader, which evaluates users' Google AdWords accounts and provides valuable tips for improvement. WordStream is a Google Premier Partner.
Source: http://www.wordstream.com/press/wordstream-acquires-display-tech-provider-algorithmic-ads
###
Tagged Algorithmic Ads, John Marshall
Related Posts