Events
Santa Cruz Arts & Technology Festival announces panel series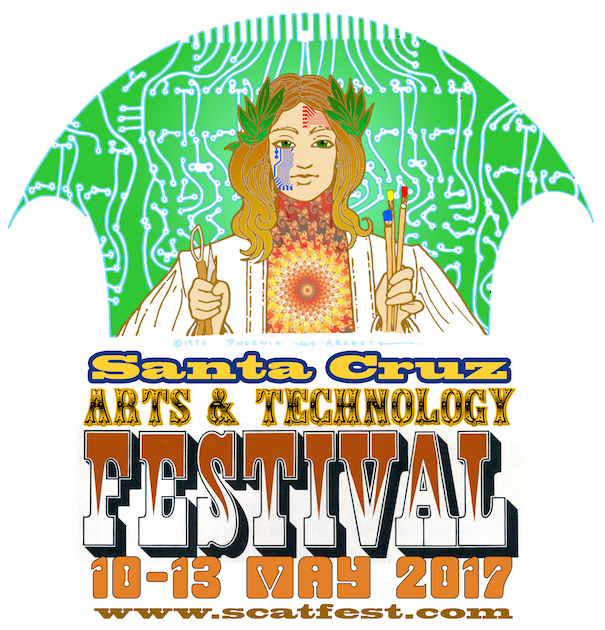 (Contributed)
May 3, 2017 — Santa Cruz, CA
Experts to discuss, arts, tech, education, energy, agriculture, permaculture, transportation, and climate
What do . . . 
a Steampunk fashion contest, the Luminescent LED grand piano, an audience-pedal-powered sound system, the Great California Mirthquake, fabulous flying aerialist women, a backyard geodesic tower greenhouse, a dijeredu virtuoso, 
a spelunking robot, the original 
Balifornia radical gamelan orchestra
and a virtual reality experience 
all have in common? 

Well, they will ALL be at the Santa Cruz Arts & Technology Festival.
The second annual Santa Cruz Arts & Technology Festival being held on Sat. May 13, 2017 at the Center for Spiritual Living, will also feature three evenings of fascinating and relevant panel discussions being be held as part of the festival on May 10, 11, and 12, 2017, at the Santa Cruz Museum of Art & History and Center for Spiritual Living in Santa Cruz.
Evening panel discussions topics include "Arts, Tech and Education," "Water, Agriculture and Permaculture," and "Energy, Transportation and Climate." A workshop on "Indie Music Marketing" by Jack Hertz and Konu is on the agenda for Saturday afternoon.
Advance Tickets Discounts are available at: www.scatfest.com/tickets.
The panel series:
ARTS, TECH & EDUCATION
Wednesday, May 10, 2017, 6:30-9:00 pm
Museum of Art & History, Santa Cruz
Admission: $10
G Craig Hobbs (Professor of Arts & Media at San Jose State, head of CADRE Media Lab & producer of Paseo Public Prototyping Festival in San Jose)
Sasha Jaffarove (High school student from Pacific Collegiate School, inventor of cave exploring/mapping robots)
Zachary Roberts (Principal of Gateway School & founder of SC MiniMaker Faire)
Arianna Feldman (Artist/maker, founder Subverse Industries — emerging tech fashions)
Payson McNett (Professor of art & tech at Cabrillo College, director of their Maker Factory)
WATER, AGRICULTURE & PERMACULTURE
Thursday, May 11, 2017, 6:30-9:00 pm
Museum of Art & History, Santa Cruz
Admission: $10
Daniel Robin – Moderator (Managing Partner In3 Grou,p impact and renewables finance)
Dr. Russ Spear (W. Coast Representative and Explainer-in-Chief Voices of Water for Climate & New Water Paradigm Management LLC)
Valerie Corral (Co-founder & Director WAMM — Wo/men's Alliance for Medical Marijuana)
Gerasimos Christoforatos (Owner, AquaBiotic Systems aquaponics with applied permaculture design)
ENERGY, TRANSPORTATION & CLIMATE
Friday, May 12, 2017, 6:30-9:00 pm
Center for Spiritual Living, Santa Cruz
Admission: $15 and includes preview of Saturday's immersive multi-media theater performance
Tiffany Wise-West – Moderator (Climate Action Coordinator, City of Santa Cruz)
James Richards (CEO Sunbank Solar (compact solar hot water heaters & installation)
Neal Saiki (Inventor; founder Zero Motorcycles; innovation consultant smartpidity.com)
Adley Penner (Bicicletas por la Paz collective, bicycle activist/evangelist & musician from Oakland)
Scott Laskey (Owner Sandbar Solar; the man who put the solar panels on the SC Lighthouse)
Ray Newkirk (Owner The Green Station bio-fuel & electric vehicles; green contractor Outside the Box Builders)
Santa Cruz Arts & Technology Festival
Celebrating tech achievement and artistic creations, the Santa Cruz Arts & Technology Festival features innovative art, products, informational displays and demos from local and regional companies, tech start-ups and students. May 13 will feature arts and tech exhibits will be on view Saturday, May 13th from Noon until 6:30 pm and a multi-media theater performance that begins at 7:00 pm.
Artists, inventors, exhibitors, vendors, volunteers and sponsors can still apply to be part of the festival.
More information is available at www.scatfest.com.
Live Music All-Day Saturday
The featured band is Bicicletas por la Paz, musical evangelists of bicycling from Oakland. A high energy, bi-lingual "latin-ska-reggae-funk" group, the Bicicletas bikes to gigs carrying their gear and instruments and then uses the audience to provide power for the band through a pedal-powered sound system!
Santa Cruz Arts & Technology Festival also offers a colorful, world-class fantastic & visionary art exhibit, plus light-art installations, music, VR, robots,dance and circus arts performances.
On Saturday evening, the festival's popular highlight, a unique multi-media performance, will fill the main theater hall. This show includes a superb selection of regional talent — musicians, dancers, acrobats and light-artists. It features live music and cutting-edge visuals by multiple projection artists.
Discounted Advance tickets for all panels and Saturday's activities and performances are available on the event's website: www.scatfest.com (Information for exhibitor, vendor, volunteer and sponsor can also be downloaded there.)
Brainchild of local multi-media artist Phoenix Dr Now, the Santa Cruz Arts Technology Festival's mission is to be a super-charged local resource for innovation, inspiration and dialog. The forward-looking, informative and joyful festival mixes unique, playful arts and media with tech tools and toys.
Santa Cruz Arts & Technology Festival strives to connect local creators, inventors and doers to exhibit, demonstrate and discuss their concepts, methods and skills. It seeks to galvanize dialog between our arts & tech innovators towards developing a healthier, more sustainable community.
Summary: Santa Cruz Arts & Technology
Festival Panels
Wed May 10 & Thu May 11, 2017, Museum of Art & History
Fri May 12, Center for Spiritual Living
Main Festival Events
Sat May 13, Noon—9:30 pm, Center for Spiritual Living
Arts and tech exhibits from Noon until 6:30 pm
Multi-media theater performance begins at 7:00 pm
###