Companies
WaveClock: The ocean changes in real-time, is that how you're checking it?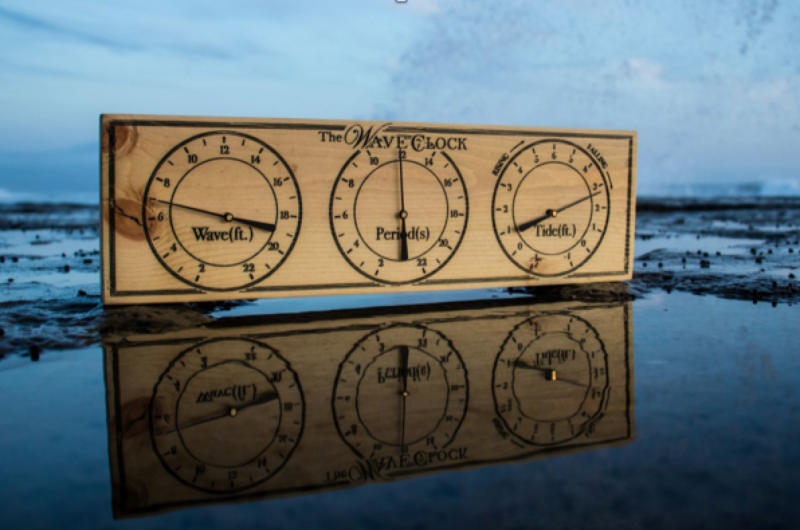 By Craig Jones
Inventor, Waveclock
Special to Santa Cruz Tech Beat
April 27, 2017 — Santa Cruz, CA
"WaveClock marries real-time digital information with old world ocean instrumentation to give you the data you need in a beautiful piece of functional art."
[Editor's note: We'll update this post when the link to the Kickstarter campaign starts.]
For boaters, surfers and ocean lovers, digital information about tides and waves is available via smart phones, tablets, and computers, but there's nothing fun, natural, or beautiful about checking it. We created WaveClock to marry real-time digital information with old world ocean instrumentation to give you the data you need in a beautiful piece of functional art. The WaveClock is an intuitive, analog display of the ocean developed as a side project here in Sana Cruz. It queries real-time oceanographic databases to find the wave and tide information at any location around the globe. By linking to the NOAA buoy network through your WiFi network, the WaveClock shows you what's happening at a glance using easy to read analog dials.
Almost two years ago we started with WaveClock prototypes and a very small scale custom production. We first shared the news of our launch here with Santa Cruz Tech Beat. [Editor's note: See WaveClock: Viewing the Ocean as Never Before (7/17/15).] Sales have been steady enough on the custom WaveClocks to keep development moving along, however, no real capital to move us to the next level.
Come May 1, 2017 we are embarking on our first Kickstarter campaign.
We have created strong relationships with like-minded artisans and ocean enthusiasts in Santa Cruz and you will see those collaborations offered throughout the rewards. We are collaborating with Bryan Garrison of Wetfeet Photography, who is providing outstanding photography incorporated into custom WaveClocks. We are also working with Ventana Surfboards & Supplies who provides world renowned woodworking, style, and reclaimed materials embodying the values of craftsmanship responsibility, and adventure. That workmanship will be reflected in limited edition WaveClocks and related rewards. PPD Multimedia, based right here in Pleasure Point, has also provided creative designs throughout the development of the WaveClock and continues to support and inspire the designs and graphics that will be integral to the Kickstarter campaign.
Why WaveClock?
Our key question is why don't we have something as easy as a classic nautical clock to tell us the information? The WaveClock has been designed and continually improved to address this need for information in an easy analog display of the latest information that can be seen at a glance! The vision is to create a beautiful piece of art that comes in a variety of styles to match your aesthetic. Also, it shows you at a glance the data you need to plan your fishing trip, tide pooling, exploration, surf session … or simply to daydream from anywhere about ocean adventures. And, when you're out in the world, the WaveClock app gives you the same information on any digital device for any ocean location in the NOAA buoy network.
Support for this Kickstarter campaign will help us go beyond the functional prototypes to a refined WaveClock product and service all based in Santa Cruz. We have three primary goals as part of the project.
Develop robust hardware and electronics including a perpetual cloud environment that supports each WaveClock.
Develop methods for creating the WaveClock boxes from sustainably sourced wood and preserving a unique custom feel for each clock.
Refine the smart phone app to include historic data and predictions for the NOAA buoys.
In the rewards you'll find the standard and premium WaveClocks, photo shoot opportunities with Wetfeet Photography, Ventana's custom wooden surfboards, and other unique equipment in the rewards. We are proud to have such excellent collaborators and proud to be able to offer such an amazing array of rewards.
Learn more here: http://www.thewaveclock.com/kickstarter-campaign/
###
Tagged WaveClock
Related Posts