Events
California Invention Convention: Don't You Wish This Was Part Of Your Education?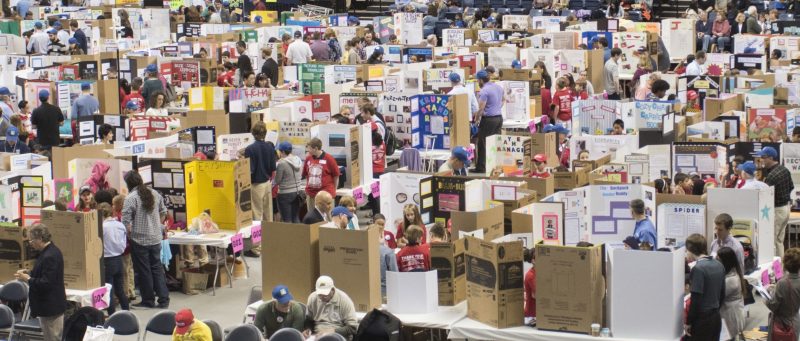 By Brenda Payne
Director California Invention Convention
Special to Santa Cruz Tech Beat
April 13, 2017 — Santa Cruz, CA
(Photo above: The National Invention Convention at the US Trade and Patent Office Alexandria VA. Contributed)
The California Invention Convention is an initiative to bring invention education into California schools and to celebrate the young inventors with a state-wide event.
60 student-finalists will compete in the first annual state-wide California Invention Convention, to be held at Harbor High School, on April 29, 2017. The public is invited for viewing on April 29, 12:30 – 2 PM.
Fostering the development of creative problem solving is an ongoing challenge for our schools. Students need opportunities to recognize and solve problems, think creatively, experiment, and work with data throughout the year. Invention education is a proven way to teach about potential solutions through creative and inventive thinking in the classroom. And, or course, inventive thinking is necessary to build an innovative, entrepreneurial and diverse workforce to meet our country's future needs. Surprisingly, California is one of the minority of states in the U.S. without a formal invention and entrepreneurship program in its K-12 school systems, and we want to change that.
The California Invention Convention curriculum is a means to increase the number of students participating in invention education programs throughout the state — impacting our cities, our state, our country, and our world. Our goal over the next 5 years is to teach more than 1 million kids valuable, key skill sets in problem identification, problem-solving, invention and entrepreneurship.
Like a science fair but for inventions
We are a convention for students who have participated in invention education – a decades-old model that mimics the science fair, but for inventions. It is a judged event where student-inventors will be placed in judging circles and interviewed by a panel of three judges per circle of six students. Judges will then use an app on their smart device to rate each student's invention and presentation skills. The top six inventors will get to go onto the National Invention Convention Entrepreneurship Expo (NICEE), which is part of the STEMIE coalition held at the US Trade and Patent Office near Washington DC, in June of this year.
Believe it or not, programs like these in Connecticut and Ohio have been around for more than 30 years! In some states, invention education is taught in almost every district. The convention serves as a way to recognize students who have successfully participated in the discipline of inventing a solution to a problem that they have identified in their lives.
The California Invention Convention is being modeled after best practices in these programs from around the country. During the 2-3 months the program is taught in classes, curiosity, and creativity are sparked in the students leading to problem solving adventures. Along the way, their skills in science, technology, engineering and/or math are enhanced. This type of project-based education allows children of all learning styles to participate and succeed. Additionally, while some science education is biased toward boys, this is not true of invention education. Currently, 52% of the invention convention students nationwide are girls. No less a benefit to our educational system, teachers say they are re-invigorated by the curriculum and the impact on the students.
Invention education curriculum focuses on having students:
Identify a problem in their own lives, or that of their families', or the community around them
Employ problem solving and creative thinking processes to solve the problem
Develop the invention idea and build a prototype of the solution
Pacific Elementary in Davenport sent four students to the Nationals in 2016
In the 2015-2016 school year, while serving as interim superintendent/principal at Pacific Elementary in Davenport I got to work with 24 students in Grades 5 and 6. Our students invented solutions to problems and "pitched" their inventions to classmates, and finally judges, in a local competition. Of those 24 students, we were able to send 4 of those young inventors onto the 2016 National Invention Convention in Washington DC.
During this time, I was able to recruit Anne Cawley, retired from the corporate world, to work with me as our Development Director, to get the pilot program of the California Invention Convention up and running. With the support of Brocade Communications as Founding Sponsor and the Santa Cruz Office of Education, over 40 teachers were trained in STEM-based, Next Generation Science Standards and Common Core-aligned curriculum in September 2016 and by November 2016, schools in Santa Cruz and Santa Clara counties were beginning invention education in selected classrooms.
60 student finalists have been selected to compete in this first state-wide event
Participating schools throughout the area have held local conventions, which culminated in 60 student-finalists being chosen to compete in our first annual California Invention Convention, to be held at Harbor High School, on April 29, 2017.
Invention education is a proven way to teach disciplined inventive thinking in the classroom. The California Invention Convention seeks to move this form of education from its present secondary focus – whether in gifted and talented programs alone, or after school programs, or simply summer camps – to being taught alongside history, music and other coursework in schools.
Seeking judges and volunteers
We are looking for judges and volunteers to help, or if you'd just like to stop by and see the wonderful inventions our students have created, the public is invited for viewing between 12:30 and 2PM in Harbor High's Multi-Purpose Room. If you are interested in signing up to judge or volunteer, go to our website at www.cainventionconvention.org and follow the links to register or contact us at Bpayne@cainventionconvention.org.
Help support six student at the national competition
If you are able to, and would like to support sending our six students and their chaperones to Washington DC for the national competition, go to our GoFundMe campaign at https://www.gofundme.com/cn5hk-help-us-get-to-washington-dc.
###
If you wish to republish this article, please follow our Terms of Use.
###